Confirmed: Claire Foy Was Paid Less Than Matt Smith on 'The Crown'
"Going forward, no one gets paid more than the Queen."
---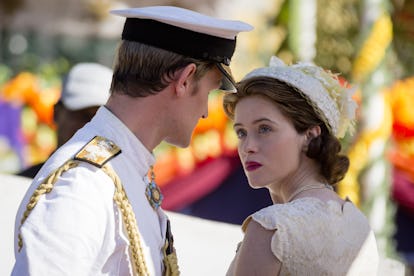 Coco Van Oppens / Netflix
Netflix's The Crown may be one of the most expensive series ever made, but the show still managed to fall prey to the tradition of paying a female lead less than her male co-star.
Last year, Variety estimated that actress Claire Foy, who played Queen Elizabeth II, was compensated around $40,000 per episode for the first two seasons of the series. And this week, during a panel discussion about the show at the INTV Conference in Jerusalem, the show's producers Suzanne Mackie and Andy Harries confirmed that Foy took home less than Matt Smith, who played her husband Prince Philip.
According to Variety, Mackie and Harries claimed that Smith's higher salary was directly tied to his star status, developed during his four years as the lead on the beloved British series Doctor Who. That said, they also promised things would be different in seasons to come. "Going forward, no one gets paid more than the Queen," Mackie said.
While it's positive that the pay scale will be rebalanced from here on out, at this point it won't do Foy any good. The actress, who took home both a Golden Globe and a Screen Actors Guild award for her performance in seasons one and two, is done one the series: Season three moves the period drama decades forward into the 1970s, with Olivia Coleman in the role of a middle-aged Queen Elizabeth II. (Hugh Laurie is rumored to be stepping in to fill Smith's shoes, though the casting hasn't been confirmed.)
The gender wage gap has been a trending topic of conversation in entertainment circles dating back to the Sony hacks, when it was revealed that Jennifer Lawrence was paid significantly less than her American Hustle male co-stars; the roiling #MeToo revolution and Time's Up initiative have put it squarely back into the spotlight over the past year. As a result, course correction around wages are headed in the right direction.
But if the star of a hit series about the Queen of the Commonwealth can't get a fair shake on a hit show, then clearly we've got a long, long way to go.
Emma Stone, Meryl Streep, Octavia Spencer, and More of Hollywood's Biggest Stars Demand Equal Pay