Daniel Neeson, Liam Neeson's Son, Launches an Eco-Friendly Clothing Line
It's called Pine Outfitters and the pop-up shop ends July 19.
---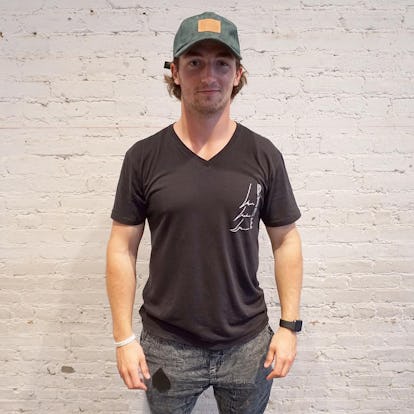 Courtesy Pine Outfitters Instagram.
Mix Patagonia, Urban Outfitters, and a famous last name and you've got Pine Outfitters, the environmentally-conscious clothing line founded by Liam Neeson's son, Daniel Neeson.
"Obviously, you get a big cliché," the commendably self-aware 20-year-old told WWD last week at the launch of his first pop-up shop in New York City. "Everybody's like, 'Oh, another celebrity son doing a fashion line,' or becoming an actor and stuff like that. For me, it came naturally. My father's been really supportive along the way. Whatever endeavor I decide, he's been on my back helping me, not just emotionally, but supporting what I do. He really loves that. I can't be more thankful for that."
It's true that Neeson joins the likes of Cordell Broadus, Snoop Dogg's son, who recently collaborated with Joyrich; Tallulah Willis, who briefly did her own line of shirts and hoodies; and Tory Burch's nieces, Neely and Chloe Burch, who launched their own eponymous handbag line. But Pine Outfitters sets itself apart with a proactive mission statement: "Embrace your wild side," and "save trees." For each product Pine Outfitters sells, the brand will plant a tree in partnership with the National Forest Foundation. It's sort of like Toms shoes, but for t-shirts, which have been sported by the likes of Andy Cohen.
Currently a junior at Tulane University studying theater and digital media, Neeson seems to be more interested in spending time outdoors than, say, walking the Dolce & Gabbana runway. His unisex line, which ranges in price from $45 to $350, features outdoorsy-inspired t-shirts, baseball hats, puffer vests, and bomber jackets, which are perhaps less for a hike in the woods and more for a chic weekend upstate.
The most curious part is that Neeson has recruited his Oscar-nominated father, actor Liam Neeson, to model the collection. The actor even wore it for an appearance on Good Morning America, and can be seen in an enthusiastic Instagram post for the brand. Soon enough, the Jedi might just become the master.
Pine Outfitters is hosting an exclusive one week pop-up shop at 121 Prince Street from July 13 – 19th. See the full Pine Outfitters lookbook, below.