Demi Moore Joins Instagram to Share Royal Wedding Escapades
She's not fashionably late, she's royally late.
---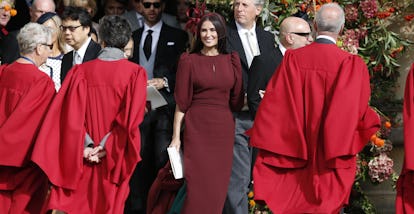 ADRIAN DENNIS/AFP/Getty Images
Maybe Instagram isn't for everyone, but there are some events that are just too glamorous not to post. And what's a wedding without a wedding hashtag? Demi Moore proved that nuptials are the most 'grammable of all occasions when she joined the platform this week to post in celebration of Princess Eugenie's wedding to Jack Brooksbank. The latest royal wedding included guests like Kate Moss and Cara Delevingne, and, of course, the royal family, including Duchesses Kate Middleton and Meghan Markle. Moore was also in attendance (in case you're wondering, she's friends with the bride's parents), and recorded a video of herself telling the camera:
"Stella [McCartney] this is for you. I'm just back from the wedding. [Let me] prop this up so hopefully we can see my full length, so, oh, we can't quite see the shoes, but I just have to say, thank you so much. I felt so beautiful, so comfortable, I felt like a princess today. Thank you. Thank you to your whole team. You guys were amazing. [Hat designer] Philip Treacy, you're a genius, I mean, let's see, we need to get my incredible shoes, too. Look at that. Ucch! So sexy. Beautiful malone. Thank you. Thank youuu. Thank you! Oh! And don't forget—one more thing! My Demi. My Demi bag!"
This mini fashion show is honestly Britney Spears–level great. Everything about the post and the account is amazing, from the fact that Moore hasn't uploaded an avatar to her handle, @moore2d, to that she geo-tagged the video simply, "Windsor." It's a place, it's a family, it's a state of mind.
The caption, too, demonstrates a perfect blend of know-how (tagging!) and mom-writing (InstaSwing! Spread it around!): "My first ever Instagram post! Love you @stellamccartney this is for you!! But I n honor of my 3 beautiful daughters @buuski @rumerwillis @scoutlaruewillis who have been desperate for me to get into the InstaSwing! #RoyalLove Thank you @malonesouliers @philiptreacy @gabrielahearst #demibag @elizabethsaltzman ?."
Oh, and because Ms. Moore would like us to view her full ensemble, and it is a really great ensemble, here you go, a full body shot:
Welcome to Instagram. Please, please, please keep making videos.
Related: The 13 Best-Dressed Guests at Princess Eugenie's Wedding, Including Cara Delevingne in a Tuxedo and Kate Middleton in Alexander McQueen
Armani Privé's embroidered metal mesh blouse, at Giorgio Armani, New York; Givenchy's viscose and cotton skirt, at Barneys New York, New York. Solange Azagury-Partridge earrings; David Yurman ring.

Photographer: Mert Alas & Marcus Piggott Stylist: Alex White
Demi Moore in Lanvin's beige polyester and polyamide dress, at Barneys New York, New York; Bergdorf Goodman, New York, 800.558.1855. Lanvin necklace.
Hair by Recine; makeup by Gucci Westman/Revlon; manicure by Deborah Lippmann/Lippmann Collection. Production by LaLaLand; digital imaging by D-Touch; post­production by Dreamer Post. Photography assistants: Gareth Horton and Maurizio Bavutti. Fashion assistants: Kathryn Typaldos and Sarah Schaub.
Photographed at Milk Studios, Los Angeles.
On the December cover Demi Moore shimmers in Balmain's leather and metal mesh dress, to order, at Maxfield, Los Angeles. Solange Azagury-Partridge 18k yellow gold and diamond ring, $22,800, at Solange Azagury-Partridge, New York.

Beauty Note: Moore achieves a flawless glow thanks to Lancôme Photôgenic Lumessence Light-Mastering & Line-Smoothing Makeup SPF 15 in Bisque 6W; Blush Subtil Delicate Oil-Free Powder Blush in Rose Fresque; Color Design Sensational Effects Eye Shadow Quad Smooth Hold in Modern Edge; Color Design Sensational Effects Eye Shadow Smooth Hold in Filigree; Le Stylo Waterproof Long Lasting Eyeliner in Khaki Splendor; Définicils High Definition Mascara in Deep Black; Color Fever Shine Sensual Sheer Color Vibrant Lipshine in Tempt Me.

Photographer: Mert Alas & Marcus Piggott Stylist: Alex White
Ashton Kucher and Demi Moore

Stylist: Alex White
Cameron Diaz, Ashton Kutcher and Demi Moore

Stylist: Alex White
Demi Moore at Proenza Schouler

Stylist: Alex White
The face of Wanted, Demi Moore.

Stylist: Alex White
Demi Moore and Donna Karan

Stylist: Alex White
Toby Maguire, Demi Moore and Ashton Kutcher attend The Youth Inaugural Ball.

Stylist: Alex White
Kate Hudson and Demi Moore

Stylist: Alex White
Glamour Reel Moments Directors and Alumni: Rita Wilson,Jennifer Aniston, Demi Moore, Courteney Cox, Kirsten Dunst

Stylist: Alex White
Rumer Willia in J. Mendel with Demi Moore in Roberto Cavalli.

Stylist: Alex White
Elizabeth Bagley, former ambassador to Portugal, Ashton Kutcher, Demi Moore and speechwriter Jon Lovett.

Photographer: Mert Alas & Marcus Piggott Stylist: Alex White