Meet Denni Elias, the Mexico City–Born, Paris-Based It Girl Promoting Mexican Artisans Abroad
"Being away from Mexico also meant that every time that I went back home I appreciated more and more its uniqueness."
---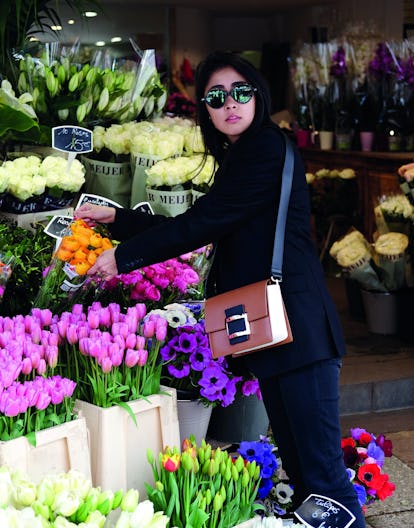 Denni Elias is the definition of a world citizen. Born and raised in Mexico City, she spent a year in Vancouver, then hopped around between New York, Los Angeles, and Mexico, before finally settling in Paris at the age of 20. Though she now calls the French capital home (where she was snapped at her favorite neighborhood spots for Roger Vivier's new tome, #LoveVivier, out this week) she still has strong ties to Mexico."Nowadays, all of my friends in Paris might acknowledge that I get somewhat anxious when the parties don't have music for actual dancing," Elias said. "As a Mexican girl, there was no day that a family dinner or any small gathering with friends didn't end up with long dancing sessions and a very, very broad repertoire of songs!"
As a teenager in Mexico, discovering the international world of fashion through the pages of Paris Vogue was "a great adventure" for Elias. "The fact that my total teenager budget was spent on magazines and shoes probably defined a lot what I do today," she shared. "I am very thankful of having lived in Mexico City because every week of the year was an occasion to dress up; it was more experimental, and in the end, super fun."
Though Elias can be spotted around Paris clad in brands like Jacquemus, she's very much a jeans and tees girl, particularly those from Club Sirena, a collection featuring cute illustrations embroidered with colorful threads that she launched with a childhood friend. "After years working in the fashion industry, we decided that we wanted to do a project that put our roots and life knowledge to work," she explained. "Being away from Mexico also meant that every time that I went back home I appreciated more and more its uniqueness." Local traditions and incredible techniques were being lost to modern times, and the duo decided to enlist highly skilled female Mexican artisans from disadvantaged communities—places where women possessed embroidery skills, but where there were no work opportunities. Elias then tapped a fellow Parsons alum, Mexican artist Rachel Levit, to create one-of-a-kind illustrations of animals and cacti for the shirts, and Club Sirena was born. Here, the It girl breaks down her style inspirations.
Three words that describe your style:
I think of Latin and fun, although I hear the word "chic" by my closest friends.
Daily uniform:
In Paris I would say a Club Sirena tee, boyfriend jeans, low-heeled shoes, and loose hair.
Style inspiration:
Lately, I'm very inspired by iconic movies and even TV series, like Volver with Penelope Cruz, The Dreamers by Bertolucci, Mamma Mia, Clueless, and even Friends.
Best styling tip:
I'm inclined to say an all-black outfit for living in Paris, but in the past months I have focused on going for a "fresh skin look" that makes me go for blue jeans, small heels, and colorful shirts.
Favorite piece in your closet right now:
Jacquemus black blazer from this season.
Go-to shoes for summer:
The Roger Vivier Podium sandals and their espadrilles are my must-haves.
Piece you have your eye on:
Off-White x Sunglass Hut rectangle sunglasses in tortoise.
Latest discovery:
Meditation at night and not looking at my phone an hour before sleeping makes me happier.
Something you would never wear:
I tend to stay away from nevers, but I have not used Ugg boots so far.
Summer style advice:
Short dress, low heels, natural hair, red lips, and almost no makeup.
Favorite song to get dressed to:
"Taste" by Rhye.
Favorite place to shop:
Fonart, in Mexico City, which is a boutique created by the National Fund for the Development of Handcrafts. They have beautiful artisanal goods from all different regions of Mexico.
Summer vacation read:
Art Sex Music by Cosey Fanni Tutti.
What every girl should own:
Own the very clear idea that we are in a time to embrace our unique beauty, and that women have never been so powerful!
Related: Australian It Girl Cartia Mallan Got Her Start by Accidentally Posting a Kylie Jenner Makeup Tutorial on YouTube