Diane Kruger Reportedly Gave Birth to Her First Child With Norman Reedus
The notoriously private actress has yet to reveal any details.
---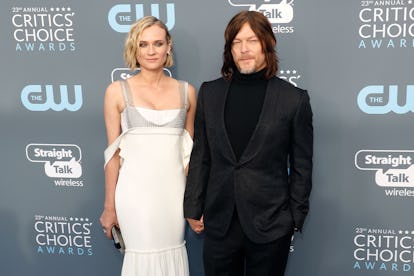 Taylor Hill
We'd like to congratulate Diane Kruger on the birth of her first child, and, well, her pregnancy too. The actor, 42, gave birth to her baby with boyfriend Norman Reedus (his second; he has a son, Mingus, with model Helena Christensen), People reported Friday. When, we don't know; where, also unknown; gender, ditto; name, no clue—but according to the outlet, there is a baby.
The relatively low-key arrival is actually pretty on brand: You'd be forgiven for not even knowing she was pregnant (she never officially confirmed her pregnancy, though it was also reported by People back in May). Since then, her Instagram has been filled with selfies cropped in around her face, and a few tabloid photos have captured her out in New York, looking undeniably pregnant. (Rumors of the pregnancy first emerged at Cannes, when she walked the red carpet in billowing dresses and reportedly declined Champagne.) Thus, we extend our congratulations not only for the birth, but for the pregnancy itself.
Again: This is not all that surprising. Kruger has always been really, really good at not broadcasting her personal life. She slyly winked at her relationship with Norman Reedus, telling Us Weekly that she's a big Walking Dead fan shortly after they started dating; her split from longtime boyfriend Joshua Jackson in 2016 wasn't messy in the public sense; she posts to Instagram constantly (as does Reedus, actually), giving the impression of intimate access to her followers when in reality her posts are mostly memes, inspirational quotes, selfies with simple captions, and the occasional red-carpet photo. She has a place in New York but can stroll around largely unnoticed. She's an unassuming celebrity—it's easy to miss her, but we'd also be remiss in doing so.
So, anyways, Diane Kruger is a mom. Great news, everyone.