Meghan Markle's Vote in the 2018 Midterm Election Is the Subject of Much Speculation
The royal has the power to vote in the U.S.
---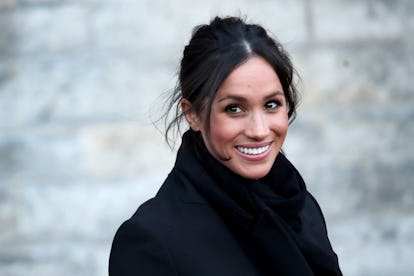 Chris Jackson/Getty Images
Today is the midterm election day and there is a lot at stake with the impending results. But one growing concern is less about politics and more about Meghan Markle. The world — or, at least, the Americans who closely follow the UK royals — wants to know whether or not the Duchess of Sussex voted in the midterm election. While Markle has moved to England, where she and Prince Harry are growing their family, she is still technically a U.S. citizen, thereby eligible to vote.
Markle has praised voting in the past, too. Two years ago during the presidential election, Markle was vocal about casting her ballot on her now-archived lifestyle blog The Tig. At the time, she wrote about how crucial it is to fulfill your civic duty in a post with the grave title "Because You Must." Notably, in the presidential election Markle submitted an absentee ballot, which she also had the chance to do this election.
"The right to vote is something for which blood, sweat, and tears have been shed; the struggle was endless for us to have this liberty," she wrote at the time. "I ticked the boxes on my absentee ballot last week, closing my eyes and thinking of my great grandparents who didn't have this right (and thinking of how it would have changed the lives of my grandparents if they had)… So on this day we urge you to exercise said right. Please vote. The fact that we can makes us the lucky ones."
While history would suggest Markle wouldn't miss the opportunity to vote, whether Stateside or not, it all gets a lot murkier now that she's a royal. According to protocol, royals are not allowed to voice political views — whether or not a private vote would be doing so is up for debate in the public court. But ultimately, the Queen dictates how the royal family is to behave. In her leading by example, Queen Elizabeth II does not vote in elections so she can stay "strictly neutral with respect to political matters," as the royal family's website says. Of course, the Queen is the (largely ceremonial) head of state of the UK, while Markle's particular situation is unparalleled.
Interestingly, Markle's team declined to comment on whether or not she voted in the election. When asked by People, her team replied "no comment." You can take Markle's past comments about the "misogynistic" and "divisive" president as an indication of how she would vote if she's able to.
In the meantime, here are some much more important things to be concerned about, which will be largely determined in the immediate future by the results of the midterm election: Human rights Women's rights LGBTQ rights The Environment Healthcare The Growing Wealth Gap Democracy Consequences for a President Who Allegedly Colluded With Russia to Manipulate a Presidential Election, Has Been Profiting Off the Presidency, and Fired a Former FBI Director in the Wake of An Investigation Into Trump's Lawyer Paying Women to Stay Silent Before the Election
Related: Meghan Markle Spotted With a Cell Phone, Which Somehow Baffles Many