Ivanka Trump Is Closing Her Namesake Fashion Brand and Focusing on a Career in Public Policy Instead
"When we first started this brand, no one could have predicted the success that we would achieve."
---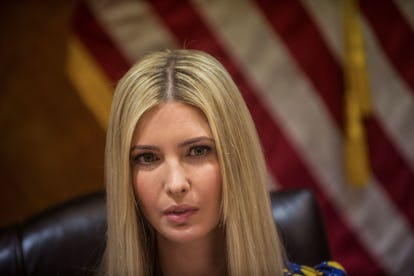 ERNESTO BENAVIDES/AFP/Getty Images
Ivanka Trump's namesake fashion brand is no more. After over a year of maintaining it while serving as an advisor to the president, her father — not without controversy — Trump has decided to cut ties with the conflict of interest so she can pursue a career in "public policy."
She announced today that she would be closing the Ivanka Trump fashion brand and, simultaneously, pivoting fully to politics. (Why Trump didn't do so earlier when taking a position at the White House has not been addressed.) "When we first started this brand, no one could have predicted the success that we would achieve," she said in a statement, as CNN notes. "After 17 months in Washington, I do not know when or if I will ever return to the business, but I do know that my focus for the foreseeable future will be the work I am doing here in Washington, so making this decision now is the only fair outcome for my team and partners. I am beyond grateful for the work of our incredible team who has inspired so many women; each other and myself included. While we will not continue our mission together, I know that each of them will thrive in their next chapter."
Trump formally stepped down from her company in January 2017, months after she campaigned for her father to become president while wearing items from the Ivanka Trump brand. Yet her name remained a selling point for the brand—at least to an extent. Back in 2016, she made $47.3 million from it, a 61 percent sales leap, according to Fortune.
The next year, however, things took a turn. The brand was dropped by Nordstrom due to its "performance." "We've said all along we make buying decisions based on performance," a rep from Nordstrom told The New York Times. "In this case, based on the brand's performance, we've decided not to buy it for this season." The rep also added, "We hope that offering a vendor's products isn't misunderstood as us taking a political position." That didn't stop her father, however, from tweeting that "My daughter Ivanka has been treated so unfairly by Nordstrom. She is a great person—always pushing me to do the right thing! Terrible!" (Ivanka Trump was also dropped by Neiman Marcus and ShopStyle, as The Business of Fashion points out.)
It didn't help for Trump that her father's political mouthpiece Kellyanne Conway dragged the brand into further murky ethical waters when she proclaimed in an interview on Fox News, "Go buy Ivanka's stuff is what I would say," which she later received "counseling" for, as The New York Times reported. "I'm going to give a free commercial here," she added. "Go buy it today, everybody; you can find it online."
Trump has yet to specify what kind of "public policy" she hopes to work on.
Related: Tiffany Trump Is Having a 'Rough Summer,' So She Went to London to Party