Tiffany Trump Is Having a 'Rough Summer,' So She Went to London to Party
So she went to party in London, where he was protested by over 250,000 people.
---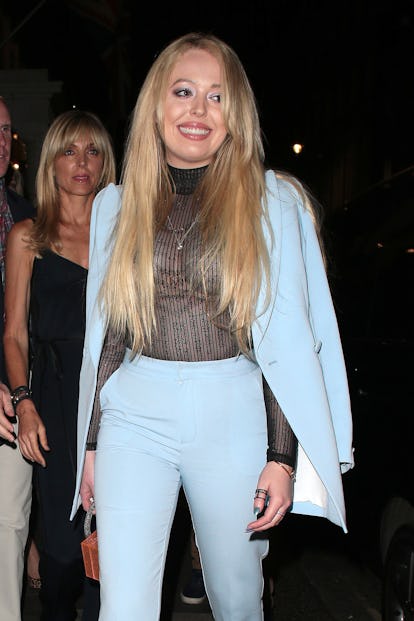 Photo courtesy of Getty Images.
Tiffany Trump may be "on the party circuit" this summer, but she's not exactly having fun. Despite hitting Hamptons house parties, dabbling in art, and attending Pride, the youngest daughter of president Donald Trump has been having a "rough summer," according to a new report, and it's largely because of her dad.
"She has been having a rough summer," a source tells People. "The breakup with her longtime boyfriend is still bothering her. All the negative attention on her dad is stressing her out, and she's just not been doing well lately."
The newest update on Trump echoes the last one, which suggested that she and her father have "always had a strained relationship her whole life, and it got exacerbated by the presidency." "It's gotten much worse now," a source revealed back in April, after many speculated on the distance between her and her father and stepmother during an Easter event. "Since the inauguration, Tiffany and her father have sometimes gone for months without speaking and she went a very long time without seeing him," the source said, before referencing the same Easter event. "The last time she was at a family function with him, it was awkward for her and she didn't feel totally welcome."
Part of that may be due to the fact that Trump's politics differ from her dad's. Last month, she celebrated Pride in New York City, which the president didn't even acknowledge. Then there was a moment in March when she was caught liking a March for Our Lives post on Instagram.
Interestingly, though, the 24-year-old has been partying in London, the same city where over 250,000 people recently protested her father with a giant Baby Trump balloon. She was recently photographed out with her mom, Marla Maples, in Mayfair. The pair went out for drinks at the Arts Club and the Latin American bar MNKY HSE, which Trump shared a selfie from on Instagram stories. Notably, the European trip she took with her mother last summer, to Capri, ended up costing taxpayers $117,489.44 in just car rentals, which The Daily Mail noted afterward. If the London trip doesn't cheer up Trump, though, there's always another New York Fashion Week—and, with it, more parties—which is just around the corner.
Related: Tiffany Trump Continues to Live Life Like She's Not a Trump At All