Tiffany Trump, in Classic Trump Family Fashion, Messes Up Attempt to Get Into Fashion Week Party
Instead of hitting the books, the first daughter is charting a course for New York Fashion Week.
---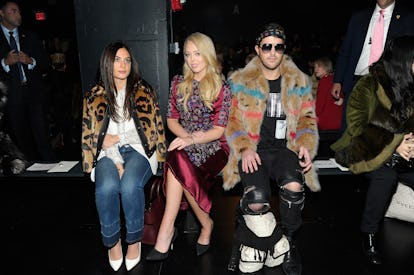 Owen Hoffmann/Getty Images
Last week, Tiffany Trump moved in to Georgetown University to begin law school, to little fanfare. She posted an Instagram of her hefty first-year textbooks—your standard freshman spread, including constitutional and contract law—flanked by two vases of hydrangeas and tagged her new alma mater, a low-key indicator of the new school year compared to the ardent coverage that accompanied Malia Obama's Harvard arrival.
Despite her recent move, it appears that the middle first daughter is already trying to play hooky, just a week into her semester—and, unlike her move onto campus, it's anything but a subtle endeavor. (This is not the way to impress one's new professors during the first days of classes.)
Trump attempted to nab an invitation to the Harper's Bazaar Icons party—the annual fete whose attendees this year will include an array of artists and celebrities as varied as The Weeknd, Karlie Kloss, Courtney Love, and the composer Ryuichi Sakamoto—which will take place in New York on Friday. But in the manner that's become expected of her extended Trump family, it appears Trump bungled her overture.
You see, a publicist claiming to represent her reached out with the request to Harper's Magazine, the monthly culture and politics publication, rather than Harper's Bazaar, the fashion magazine.
On Sunday, the second day of the three-day Labor Day holiday weekend, Giulia Melucci, the vice president for public relations at Harper's, was sitting on her deck at her "very unfashionable, very un-designer" rental home on Shelter Island when she received the email, she told W.
"Hi, I wanted to email on behalf of the First Daughter Tiffany Trump. She is in town for NYFW and attending a few events. She would love to possibly attend the Bazaar Icons party. Please let me know if this could be accommodated," wrote a representative for Trump and her friend Andrew Warren's brand Just Drew—affiliates with which, one might assume, would be familiar with the difference between the two publications. (Warren has called Trump his "muse"; she walked his Fall 2016 show last February.)
The next day, the rep followed up again with a "desperate" text, in Melucci's words, just to be sure the message got through. It did, just perhaps not to its intended destination—"We're dot-org," Melucci said. "It's kind of obvious."
"I was shocked," Melucci continued. "I had just taken a barre class with Uma Thurman, so maybe the celebrity was just kind of sparking off me." (Melucci did not respond to either missive.)
"I'm perplexed," Melucci wrote on Twitter Tuesday evening. (After all, as a law student, Harper's might be a magazine with which Trump should be familiar—"Shouldn't she be studying torts right now? What about the torts?" Melucci told W.)
Harper's magazine editor-in-chief James Marcus also chimed in on Twitter: "I happen to own some very fancy pants and shoes, just for example," he wrote. (He also retweeted Bruce Barcott, a writer who has contributed to Harper's, who commented, "The weird part was the request to be seated near @jamesamarcus & John Jeremiah Sullivan but far from Rebecca Solnit." Literary humor, gotta love it.)
The young Trump is not an unfamiliar sight at fashion week; she is a regular at Dennis Basso's fur shows, for instance. But, according to Melucci, the mix-up is standard Trump family fare: "It shows how moronic everybody they surround themselves with is," she said.
(W has reached out directly to Tiffany Trump for comment, but did not receive a response at time of publication.)
Irina Shayk cries at a lot of movies—but not Magic Mike: