Tiffany Trump's Totally Normal Summer Is a Wonder of Blissful Ignorance
From making regular rounds on the Hamptons party circuit to, um, celebrating Pride Month.
---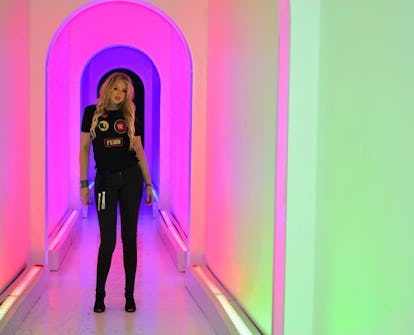 Courtesy of @tiffanytrump
It's perfectly ordinary for college students to spend their summer off from freshman year enjoying being untethered from their studies—not to mention the pressures of holding down a summer internship or job. As this particular summer wears on, it's increasingly become clear that Tiffany Trump considers herself to be just another among her peers—never mind that she's, well, a Trump.
Having completed her second semester at Georgetown University Law School in D.C., where she's been continuing her education after graduating from the University of Pennsylvania, she's now established enough of a presence out and about to be considered "def on the party circuit." That's according to an anonymous source in Page Six, but it doesn't take much digging to find evidence to back up the claim. (That is, other than the fact that she attended two house parties in the Hamptons last week.) Here's a recap of everything that she's gotten up to in her perfectly normal 24-year-old bubble this summer.
(Reluctantly) vacationing with the fam.
Free from freshman year, Tiffany joined Ivanka Trump and Jared Kushner in taking a trip to visit Donald Trump in Camp David. While en route, she displayed the same type of distance as she did when on a trip with the fam earlier this year, attending an Easter church service (sort of) with her father and his wife Melania.
Wandering through Trump Winery.
Tiffany's first post-college Instagram post showed her wandering the grassy fields of Trump Winery in Virginia—strangely sans any company, and sans any sign of wine.
Hanging out with Joe Biden's granddaughter.
A week after Malia Obama put in an appearance at the same Montauk hotspot, Tiffany also headed off to the Surf Lodge. Though Obama wasn't around, she still broke down some party boundaries by hanging and even taking a heart-adorned selfie with Naomi Biden, who's apparently one of her "college pals from Penn." (She also squeezed in some hang time with Peter Brant Jr. and Andrew Warren.)
Foraying into art.
As evidenced by the only Instagram Story she's so far highlighted on her account, Tiffany has enrolled herself in an art camp of her own. So far, she's been working on bejeweled denim vests, and candles and canvases covered in sparkles.
Honing her skills with power drills and X-Acto knives.
Just because Tiffany is new to the field doesn't mean she's messing around. She's so far employed tools ranging from nail polish to um, much more alarming ones like an X-Acto knife, which she documented herself experimenting with at five in the morning. She's also apparently at work at hanging some pieces in her home, as evidenced by a video that captured her rather threateningly wielding a power drill.
Living life as a New Yorker.
In the midst of the outcry surrounding Trump's "zero tolerance" policy, which has been separating immigrants who've crossed the Mexican border without documentation from their children, Tiffany and her mother Marla Maples enjoyed some vegan tacos in Midtown Manhattan without any incident. (She also made time to party hard, particularly with her longtime BFF Andrew Warren.)
Casually partying in the name of the NYC Pride Parade.
In another casual contradiction of her father's politics—she's also recently liked an Instagram supporting the March for Our Lives and calling out the GOP, and even partook in an anti-Trump card game—Tiffany turned out to celebrate New York Pride Parade, even donning a festive sequined jacket for the occasion. She also joined her friends in wishing the world a "happy pride" while hanging with her friends at New York's Soho House.
Pivoting to alt?
As you may have noticed, Tiffany is wearing all-black—save for a bit of appropriately rainbow detailing—in the Pride photo above. She also kicked off July in another undeniable departure from her usual style, dressing in an all-black, Avril Lavigne-like ensemble, complete with a choker. All that's all the more curious, seeing as she opted for all-black in early June, too. Come to think of it, if there's any way to really distance herself from her family, it just might pivoting to alt. Ivanka may have had a so-called "punk phase" in her youth, but these days, it's practically impossible to imagine her wandering the aisles of Hot Topic.
Reasserting her newfound reign over the Hamptons.
For the Fourth of July, Tiffany naturally returned to her summer getaway of choice, cementing her title of this summer's area socialite. She reportedly celebrated America's independence by hitting the dance floor—and even leaving a full bottle of Dom Pérignon at the Surf Lodge for the true normies.
Related: How to Move Into College When You're an Obama, a Beckham, and a Trump