Diplo Celebrated His 40th Birthday by Surrounding Himself With Models in Jamaica
Age is just a feeling, apparently.
---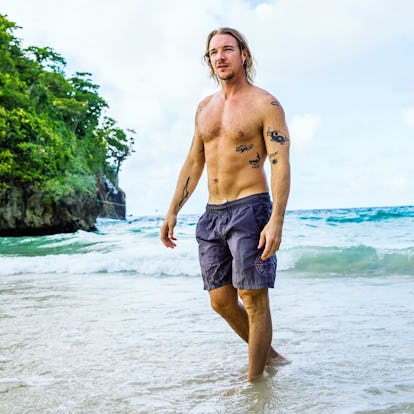 instagram.com/diplo
It's not often that someone reveals their birthday wishes, but Diplo didn't even have to when he rang in his 40th. The party he threw for himself said it all. If you thought the milestone birthday might slow him down, well, the producer reached peak Diplo by flying a bevy of top models and other assorted influencers and cool girls to Jamaica to celebrate while also managing to produce some thirst trap content of his own.
Diplo posted yet another shirtless photo on Instagram from his birthday party with the caption, "Thank you God for all the blessings I can't believe I turned 23!" Meanwhile, on Instagram Stories, he posted footage of his birthday party guests' journeys to Jamaica, including the models Nicole Williams, Grace Mahary, Mélodie Monrose, Helen Gedlu, and Shanina Shaik, and the influencer DJs Chantel Jeffries and Simi and Haze Khadra, as well as another person from Kylie Jenner's orbit, Justine Skye. He also posted a couple of selfies upon their arrival, with the self-congratulatory caption, "Why does my kitchen have the best lighting?"
Shaik shared a group photo from the outing, in which Diplo is surrounded by his good friends from his birthday trip.
There are plenty of other model photos from the Jamaican trip to browse through.
It's not surprising that Diplo chose Jamaica as a destination for his birthday—he owes much of his career and more of his celebrity status to the country, as its dancehall sound is the foundation of his project Major Lazer. When asked earlier this year about his critics who view his interpretation of dance hall as "whitewashing," he told The Guardian, "I might be too tired to answer that in a good way. I don't…really…f–king care. What kind of music am I supposed to make? Being a white American, you have zero cultural capital, unless you're doing Appalachian fiddle music or something. I'm just a product of my environment." As for his birthday party, the source of inspiration is even less clear.
Related: Rihanna Mercilessly Shades Diplo During a Session With Future and the Weeknd, Speaks for All of Us