Go Inside Donatella Versace's Palatial Milan Apartment
It once belonged to her late brother Gianni Versace.
---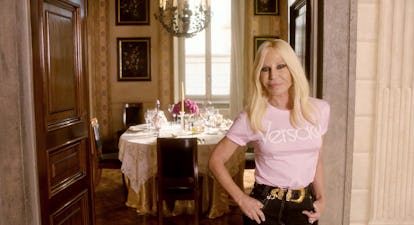 Vogue
Donatella Versace is the first to admit that she's no fan of minimalism—it's the one trend she hopes goes away forever—but if you don't believe her, just take a look around her Milan apartment. The Italian designer took Vogue on a tour of the residence, which once belonged to her late older brother, Gianni, for the latest installment of their "73 Questions" series, and showed off the fittingly over-the-top décor that would put the Palace of Versailles to shame.
The grand double doors of the apartment open into a sun-filled foyer with white stone walls and a white statue on a pedestal in the center. Leading off to one side is a small sitting room with dark wood-paneled cabinets lining the walls, floral print couches, a floor inlaid with geometric marble tiles, and low bookcases loaded with framed photos and huge coffee table books about fashion and travel. Versace, wearing a pink T-shirt emblazoned with her famous surname and tucked into belted black flares, leans against the wall of the room while declaring that next year's Met Ball, which she's cohosting, will be the "best Met Gala ever," that New York is "always" better than Milan, and that roses are her favorite type of flower.
Versace then walks back across the airy foyer to another queen-worthy room, featuring a similarly tiled floor, statues dotted around the space, throne-like wooden chairs with rich red upholstery, an elaborately carved wood cabinet, and white stone carvings covering the walls. In this room, Versace reveals—surprise!—that she prefers gold to silver and that she wants people to stop describing fashion as "amaaazing." Then, it's on to the dining room, where still-life paintings mounted on the walls surround a small round table laid with gold and cream tablecloths, full place settings, vases of pink roses, and tall candlesticks.
The 62-year-old wraps up the tour by heading through yet another palatial living room (this one is lined with dozens of columns and holds huge bouquets of red roses in stone bowls on pedestals, gold couches and chairs covered in black leather cushions, and a black marble coffee table that holds more books, plus the album cover of Lady Gaga's Joanne) and another smaller sitting room (with wooden bookcases lining the walls, two bright red couches sitting on either side of an ornately decorated coffee table, and, curiously, a collection of antique globes) before ending up in the backyard. Versace (as she explains, it's pronounced Ver-sah-cheh, not Ver-sah-chee) takes a seat in one of the two chairs on the patio and sips coffee from a luxe white china set covered in black and gold designs, surrounded by massive pots holding perfectly manicured trees and walls covered in leafy climbing vines. It's a residence fit for a queen—the queen of fashion, that is.
Related: Donatella Versace on Michelle Obama: "If She Ran for President She Would Win"