Drew Barrymore Says Princess Diana Set "Such a Good Example"
"Diana was, and is, and will always be the epitome of a woman that all little girls look up to."
---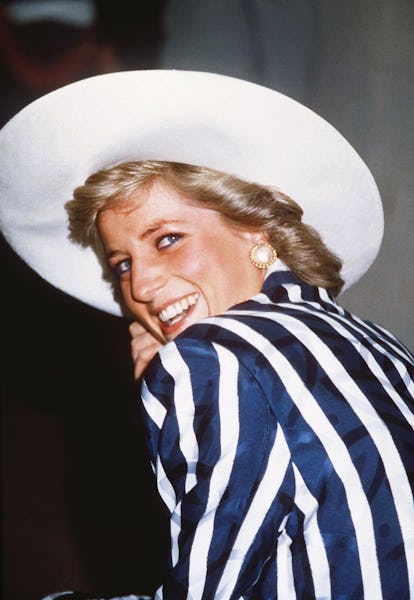 GETTY IMAGES INC
Drew Barrymore may have been famous her entire life, but there is one person that she was incredibly excited to meet: Princess Diana. In an appearance on Jimmy Kimmel Live, a gushing Barrymore recalls what it was like to meet the People's Princess.
Barrymore met Prince William and Prince Harry's mother soon after she starred in E.T., and says she remembers it "like it was yesterday." "It was the most exciting moment for me to meet a real life princess, the real life princes, the people's princess," she said. "Diana was, and is, and will always be the epitome of a woman that all little girls look up to." She continued, "She was so kind and so nice and, I have to say, growing up with her as a princess was just such a good example."
While Barrymore praised the late Diana, Kimmel showed a photo of the two's meeting — with Steven Spielberg looking on in the background, making sure that Barrymore is following royal protocol. Barrymore says the director was "very paternal" to her. "He was like, 'Well your mom took you to Studio 54 last night, so I want to make sure you don't mess this up,'" the actress joked, though she quickly added a "thank you" to her mom for all of the fun she had at the nightclub.
She also said that Spielberg "put her in her place"; he apparently wouldn't let her wear dark lipstick when she was "too young" and helped her "stay a kid." Barrymore, who famously battled addiction and family issues at a young age, said she "needed that" kind of guidance.
Barrymore is hardly the first celebrity to express admiration for Princess Diana. Rihanna recently expressed how Princess Di influences her sartorial choices; namely Diana's 1994 Christina Stambolian gown, which will forever go down in history as the original "revenge dress." Diana: a woman inspiring women at all stages of life.
Watch the full video, below.
Related: Watch Out, Gwyneth Paltrow: Drew Barrymore Is Coming for the Goop Crown