Rihanna Takes Inspiration From Princess Diana When She Wants to Send Her Exes a Message
"Even Princess Diana could suffer like any ordinary woman."
---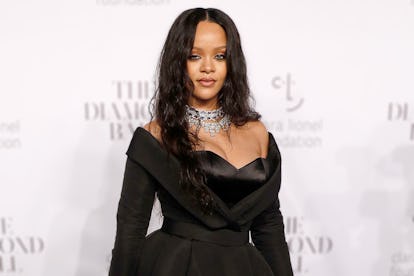 Taylor Hill/FilmMagic/Getty Images
According to Rihanna, when a man wrongs you, there's only one thing you have to do. No, not get mad or even get even, but go shopping. Her unexpected inspiration for the theory? Princess Diana.
"Every time a man cheats on you or treats you badly, you need a revenge dress," Rihanna said in the December 2017 issue of Vogue Paris, for which she served as the cover star and guest editor, WWD reports. "Every woman knows that." While the "Wild Thoughts" singer has shown off her fair share of revenge dresses over the years (case in point: her iconic "naked dress" at the 2014 CFDA Awards, which was assumed to be a post-breakup nod to Drake), she admitted to Vogue Paris that she wasn't the first one to use a DAYUM-inducing outfit to show an ex what they're missing out on.
"Whether her choice of this knockdown dress was conscious or not, I am touched by the idea that even Princess Diana could suffer like any ordinary woman. This Diana Bad B*tch moment blew me away," Rihanna said, citing the black off-the-shoulder Christina Stambolian gown Lady Di wore to a party at the Serpentine Gallery in 1994. The princess showed up in the ensemble (which, according to Marie Claire, she almost didn't wear because it was too low cut) on the same night that Prince Charles publicly confessed to his adultery with Camilla Bowles, and it has since gone down in history as the ultimate "revenge dress."
Despite the fact that RiRi hasn't publicly confirmed a romance since her 2011 split from Chris Brown, she's been linked to everyone from a Coachella-going Leonardo DiCaprio to former basketball player Rashard Lewis to Saudi billionaire Hassan Jameel, so maybe her best outfits (which, by the way, you can now wear on your socks) have been secretly spilling the tea on her romantic life all along.
Related: How Virgil Abloh's Off-White Paid Tribute to Princess Diana
Princess Diana's 8 Most Iconic Looks: