Dua Lipa Shows Off Shorter Hair With a Bob
One's a bob. The other is a bop.
---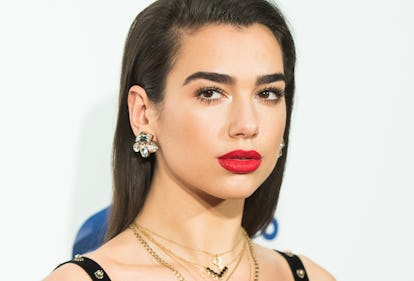 Samir Hussein/Samir Hussein/WireImage
We're only four months into 2018, but one of the biggest hair trend of the year is already established. Dua Lipa is the latest celebrity to give her cosign to it. The English pop singer showed off her new lob on Instagram with the caption "snip snip". Indeed, it's a big change from her formerly longer locks.
According to Lipa, she decided to go for a shorter cut due to how "damaged" her hair was, as she explained in Instagram stories. With her new bob, Lipa is in good company. Over the past handful of months, everyone from Kylie Jenner, Demi Lovato, and Selena Gomez to Reese Witherspoon's daughter Ava Phillippe have gone shorter. Just earlier this week, Leighton Meester went for the most extreme take on the trend by not only electing for a healthy chop in length, but also changing her hair from a Waldorf-ian brunette to a van der Woodsen-esque blonde.
Here's Lipa's fresh new take on the trend.
And here's Lipa's old length for comparison.
Lipa has had a busy 24 hours. Besides getting a haircut, the U.K. artist also released a new track, a bouncy dance song with Calvin Harris titled "One Kiss."
Lipa has been on a press run of sorts lately, recently opening up about sexism in the music industry and the #MeToo movement. "For a female artist, it takes a lot more to be taken seriously if you're not sat down at a piano or with a guitar, you know?," she told British GQ last month. "For a male artist, people instantly assume they write their own music, but for women, they assume it's all manufactured."
Lipa also opened up about inappropriate behavior from men that, up until the #MeToo movement, has been largely brushed off. Lipa spoke about how even some seemingly small gestures and unwanted advances can have a negative impact. "You know, even from school, growing up with kiss chase or whatever, it's been ingrained in our heads that boys will be boys and it's harmless fun and no big deal and to brush things off," she said. "Like catcalling. To some it might not seem a lot, but it affects your mood; people get embarrassed about the way they dress. For lots of females, be it actresses, singers, models, no matter what it is, it's not being able to have the right to dress and wear how and what you want and be taken seriously."
Related: Exclusive: Listen to Luna Shadows' Haunting Cover of Dua Lipa's "Be the One"
In the Mood for… Short Hair
Photograph by Richard Burbridge for W Magazine, November 2014.
Photograph by Craig McDean for W Magazine, August 2014.
Photograph by Mert & Marcus for W Magazine, September 2012.
Photograph by Mario Sorrenti for W Magazine, April 2012.
Photograph by Steven Meisel for W Magazine, March 2011.
Photograph by Erik Madigan Heck for W Magazine, May 2014.
Photograph by Santiago & Mauricio for W Magazine, November 2013.
Photograph by Mert & Marcus for W Magazine, September2012.
Photograph by Juergen Teller for W Magazine, February 2014.
Photograph by Juergen Teller for W Magazine, February 2008.

Teller Juergen
Photograph by Patrick Demarchelier for W Magazine, February 2014.

Patrick Demarchelier
Photograph by Alasdair McLellan for W Magazine, March 2016.

MCLELLAN ALASDAIR
Photograph by David Sims for W Magazine, March 2008.

Sims David
Photograph by Andreas Laszlo Konrath for W Magazine, June 2011.

Andreas Laszlo Konrath
Photograph by Alasdair McLellan for W Magazine, March 2016.

MCLELLAN ALASDAIR
Photograph by Michael Thompson for W Magazine, April 2008.

Michael Thompson
Penelope Cruz photographed by Mert and Marcus for W Magazine, August 2008.

Mert Alas and Marcus Piggott
Photograph by Matthias Vriens McGrath for W Magazine, December 2015.

MATTHIAS VRIENS MCGRATH