Eddie Redmayne Read a Pitch-Perfect Bible Passage at Stephen Hawking's Funeral
The 36-year-old actor won an Academy Award for portraying the celebrated physicist in The Theory of Everything.
---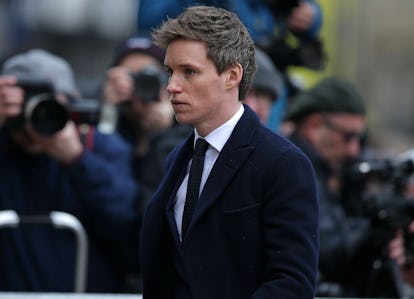 DANIEL LEAL-OLIVAS/Getty Images
When Stephen Hawking died last month, succumbing to amyotrophic lateral sclerosis (ALS) after battling the degenerative disease for more than 50 years, the actor Eddie Redmayne was among the first to express his condolences in a public statement.
"We have lost a truly beautiful mind, an astonishing scientist and the funniest man I have ever had the pleasure to meet," he said at the time. Redmayne cultivated a relationship with the late physicist while making The Theory of Everything, the 2014 film in which Redmayne starred as Hawking, and for which he won an Academy Award. (Benedict Cumberbatch, who played Hawking in the BBC film Hawking in 2004, also issued a statement fondly recalling their shared margaritas.)
So when it came time for Hawking's funeral, which took place at the St. Mary the Great church in Cambridge on Sunday, Redmayne was among the lineup of friends, family, and collaborators who eulogized the celebrated scientist during the service. Redmayne read from Ecclesiastes 3.1-11, which reads, in part, "For everything there is a season, and a time for every matter under heaven: a time to be born, and a time to die"—a suitably elegiac Bible passage for the occasion.
Redmayne was joined at the funeral by his Theory of Everything co-star Felicity Jones, who played Hawking's first wife Jane (also in attendance), as well as model Lily Cole, Brian May of the band Queen, actress Anita Dobson, and Hawking's three children. Tesla CEO Elon Musk, briefly freed from his cryochamber, reportedly also attended. Hawking's casket was decorated with white lilies and white roses; the church bell rang out 76 times, one for each year of his life. (When he was diagnosed in 1963, Hawking was given just four years to live; instead, he went on to write A Brief History of Time and six other books and, in 2009, to win the Presidential Medal of Freedom.)
Outside the service, thousands lined the streets to pay their respects. After cremation, Hawking will be interred at Westminster Abbey, where fellow physicist Isaac Newton's remains are also interred.
Related: Actress Felicity Jones on Her Role in "The Theory of Everything"