Emily Ratajkowski Shares "Gross" PDA Photo With Husband, Sebastian Bear-McClard
In case you forgot she was married.
---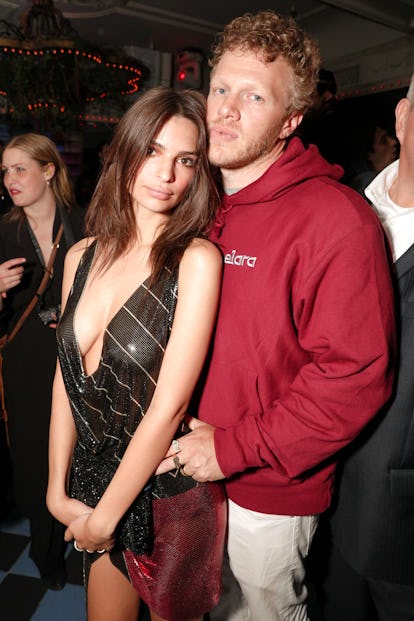 Matteo Prandoni/BFA.com
Time and again, Emily Ratajkowski has proven she is one of the undisputed queens of living life unapologetically online. In the past, she has fired back at those who criticized her choice of outfit while she protested the Supreme Court nominee Brett Kavanaugh in Washington, D.C., and while she outlined the definition of single payer healthcare, and proclaimed on Twitter that people should "stop telling me how to dress or what to do with my body, thanks."
Her most recent example of expressing herself on the Internet, however, is less political but still forthright: a rare close-up picture of herself engaged in a kiss with her husband, Sebastian Bear-McClard.
Yes, in case you forgot, Ratajkowski married Bear-McClard in a quiet courthouse ceremony in February, wearing a suit from Zara that cost just $200. And for anyone who had negative feedback on her City Hall wedding (which, by the way, is immortalized in the "Highlights" section of her Instagram page), Ratajkowski has openly fired back. In May, the model's feisty spirit took over in a Marie Claire cover interview, in which she took any naysayers to task about the "constant writing-off" of her relationship with Bear-McClard, a producer and actor. "People came after my marriage, like, 'Wow. I give it three weeks.' I'm like, 'What?' No one can take women seriously on any choices that they make, especially if they're unique to them and they don't play into the way we think women should get married," she said in May. She then shared a sneaky paparazzi photo of herself and Bear-McClard kissing on the street in July and captioned it, "Ewwwww ❤️," followed by another photo of her kissing her husband on the beach, with the caption, "Eww part II."
This recent PDA snap begs the question: Is Ratajkowski openly trolling haters who have stated that they do not think her marriage could last? Well, the short answer comes in the form of the caption posted by the model herself. Like, a really short answer, abbreviated and all: "We gross & tbh idc," she wrote.
Related: Emily Ratajkowski and Amy Schumer Were Among the Hundreds of People Arrested While Protesting the Kavanaugh Nomination