Emily Ratajkowski Fires Back at the Naysayers Who Said Her Marriage Wouldn't Last
"People came after my marriage, like, 'Wow. I give it three weeks.'"
---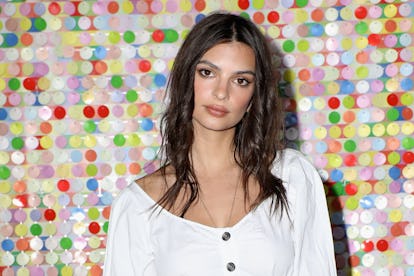 Roger Kisby/Getty Images
Emily Ratajkowski isn't afraid to speak her mind. In a conversation with Janet Mock for her June cover interview with Marie Claire, the supermodel opened up about the politics in her new film I Feel Pretty, activism in 2018, a loose definition of the term "empowerment" when it comes to feminism, and the media's response to her courthouse wedding.
After having dated him for just a few weeks in February, Ratajkowski married producer Sebastian Bear-McClard in what appeared to be a last-minute ceremony at City Hall in New York, while wearing a $200 yellow suit from Zara. As she previously told W in March, Ratajkowski chose to wear the suit because she knew she really wanted to wear one, and was not keen on having an elaborate public ceremony. Her decision to marry Bear-McClard in the suit was criticized by many who said it was too soon, but Ratajkowski has fired back at the naysayers in her cover interview. "People came after my marriage, like, 'Wow. I give it three weeks.' I'm like, 'What?' No one can take women seriously on any choices that they make, especially if they're unique to them and they don't play into the way we think women should get married," she said. "It's a constant writing-off."
Ratajkowski pressed further on the issue of being taken seriously, telling Mock, "I think I freak people out sometimes going into meeting with Hollywood producers…with f–king guns blazing. I had something to prove, and it had very little to do with my acting ability or the way I looked."
Mock also described the supermodel as "dismissive" of Robin Thicke's "Blurred Lines" music video. However, Ratajkowski's I Feel Pretty costar Amy Schumer told her that she felt "empowered" by the model's topless performance in the video, citing Ratajkowski's "ownership over her power" and her refusal to apologize for her choices as a cornerstone of the politics on display in the romantic comedy, which stars Schumer and Ratajkowski.
The supermodel also discussed her opinions on the male gaze and its effects on young women in Hollywood. "We grow up in this patriarchal, misogynistic culture, and women fantasize about watching themselves through a male gaze," she declared. "But if a woman decided that she likes herself in a gaze, and it makes her happy, should she feel the burden of where that comes from?" Ratajkowski asked. "I don't know the answer. That's now what feminism is about. It's freedom of choice," she continued.
Ratajkowski ended on a note about her "struggle with the label of 'activist'" in the current political climate. "I want a radical left, and I don't see it…I was hopeful that with Trump coming into power there would be this drive to radicalize," Ratajkowski admitted, just before expressing her contempt with the semi-empty gesture of expressing oneself politically on social media without taking action to organize. "I've seen lot of people, no offense, wearing pink hats and posting it on Instagram and thinking that they've done something good for the world, and I just don't think that's true," she said.
Related: Emily Ratajkowski Explains Why I Feel Pretty Is Not Your Average Rom-Com