Emily Ratajkowski Explains Why I Feel Pretty Is Not Your Average Rom-Com
Her new film with Amy Schumer has a good message.
---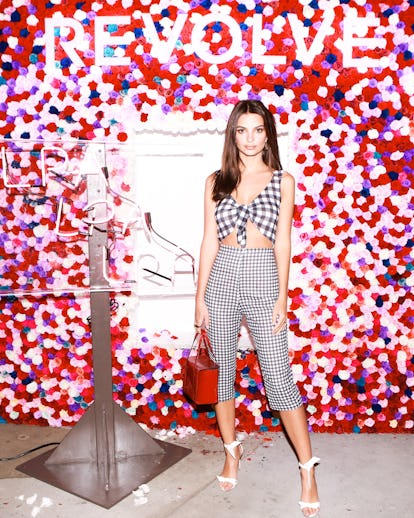 Sansho Scott/BFA.com
So far, Emily Ratajkowski has had a very busy 2018. She's starred in countless fashion campaigns, been cast in a new television show that is being touted as the millennial Friends, and there was that whole surprise wedding at City Hall that kept tabloids busy for weeks. But don't expect her to slow down anytime soon.
"I literally got into town [from New York] 30 minutes ago," Ratajkowski said Thursday evening, holding court poolside with new husband Sebastian Bear-McClard at the V Palm Springs, where she was hosting a welcome dinner with Revolve and LPA to kick off weekend one of Coachella. "I grew up in San Diego, so it used to be a quick thing to get to the desert. Yesterday I was like, 'Wow, people who come from the East Coast are committed.'" But travel woes weren't going to stop the festival veteran from participating in the extravaganza once again.
"The first time I came I was 14," she said. "The Yeah Yeah Yeahs performed, and I remember seeing them and being like, 'This is so groovy.' I was actually just laughing remembering that one year my girlfriends and I, when we were 20, we didn't have tickets, but we were like, 'Let's just go.' We showed up and ended up sleeping in my car; we bought food with a Starbucks gift card that I found, and were like, 'This is incredible.' I'm just thinking about how different that experience is from now where I go to events in my heels."
Indeed, her LPA gingham jumpsuit and stiletto heels weren't exactly desert-ideal. "It's kind of '60s, which is not what people are expecting for Coachella," she offered. "The whole boho thing has been done."
Ratajkowski was only planning to attend one day of the concert to see "Abel," or, for those not on a first-name basis, The Weeknd. She had another busy week ahead, with her new film, I Feel Pretty, hitting theaters this Friday. "I think it is a really good movie and that people will love it. It has a good message, and it is reminiscent of all those old movies that we loved in the 2000s. It's a return to that," she said, adding, "This is an interesting film because it is not your traditional hot-girl-meets-hot-guy and they have funny jokes and fall in love. You don't really expect what is coming, so it's part of a new generation of rom-coms unlike what we are used to."
Not that she has any qualms with the genre-defining films that have come before. "That's hard," she said when asked about her favorite romantic comedies. "I mean, Pretty Woman, obvs. Randomly on the plane today they had Never Been Kissed, and at one point in time, I loved that."
In the new film, Ratajkowski costars alongside Amy Schumer, whom she described as, simply, "amazing." "She is so funny, and so smart, but she also takes her business really seriously, which I have so much respect for," she added. The two had met prior to shooting the film, she explained, under circumstances befitting of a rom-com. "We actually met at the Met Gala," she explained. "We were both kind of drunk, and we literally pointed at each other. I feel like both of us have similar ideas about women and stuff, so we were like, game recognize game. I was so honored when she pointed back at me."
Of course, it is almost that time of year once again, with this year's gala, themed "Heavenly Bodies: Fashion and the Catholic Imagination," just a few weeks away. And while many starlets are already on to their final fittings, Ratajkowski had yet to try her dress on. Like we said, she's been busy. "I'm a little nervous about it. Normally you start dealing with it in December or January, but we started in February. I haven't even done a fitting yet. I'm pushing it… But it's fine."
Related: Emily Ratajkowski Talks About Her Return to Music Videos, and the Suit She Wore to Her Wedding