Emma Stone's Hairstylist Explains Why the Perm Is the Ultimate Power Move Now
The complete guide to the modern perm, according to celebrity hairstylist Mara Roszak.
---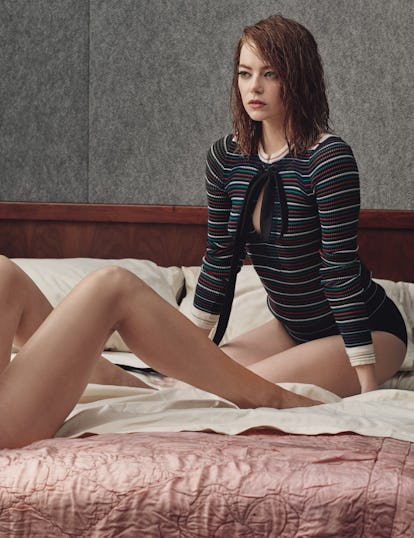 Photographs by Craig McDean. Styled by Edward Enninful. Hair for Stone by Mara Roszak at Starworks Artists; makeup for Stone by Rachel Goodwin for Chanel at Starworks Artists. Manicures by Michelle Saunders for Essie at Forward Artists. Set design by Piers Hanmer
When it comes to 80's hairstyles, the perm stands alone as a signature trademark of the era. And while it's now regarded as outdated, the hairstylist Mara Roszak, who is behind the current perms of stars like Emma Stone and Jaime King, is here to remind us that today's perm is not the same one worn by generations before. In fact, it's so much more than that. For Roszak, the perm is a vehicle of empowerment for women and allows individual to embrace their own uniqueness. Here, Roszak breaks down the modern perm, and why it's ultimate power move for women everywhere today.
What is the process behind getting a perm and how long does it takes? This perm is a lot more mellow than the perm that flashes to our minds when we hear the word perm, yet totally customizable. It is restructuring your hair to go from straight to wavy and you can control the amount of waves; you were just more limited with your options when the perm kind of first became a thing. The process takes about two hours. We at Mare Salon have really the mastered the way it's all about placement and sizes of the rods we use. So if you want a beachier, more natural, smoother wave, we place the rods in a totally different direction. It's all about placement, which will then determine the movement and shape. You wait about two days to wash your hair and then you can really see the results.
Are perms suitable for every hair type and how do long do they last? They really are for almost any hair texture, I would say if your hair is super bleached out you want to be more careful so that would just mean coming in for a consultation, which a lot of people want to do anyway. During the consultation, you can really get clear on if this feels right for you, if it's something you really want to do. If your hair has been processed with just bleach, than I would suggest coming in for a consultation. They can last up to six months.
Why have we seen the return of the perm now and what influence does this have on the beauty industry? Honestly, trends come around and they circle depending on the time we are in, the climate, etc.. And I think at least for women now, I'm finding in beauty there's this real message of empowerment. Beauty is our own, no longer are we going to limit ourselves or determine our beauty looks based on the way that anyone else tell us. It really feels like this is super fun, it's bold. What really was true in the 80's was that it was the working woman, everything was so big and bold and like, I am here, I'm not invisible. mean, you literally could not hide from the eye shadow and lipstick color. I really do think that some of that sentiment is represented in this time with women and very much is, We are here. This bigger hair granted is not what it was, but it has movement, body, it's super sexy and totally individual and unique. I think that is what's made it modern.
How can we be more accepting of natural hair? Women for a long time have been fed these narratives of what is beautiful, and this idea of perfect hair is worthy of acceptance in a way that anything outside of that isn't. I have the privilege of working with women every day, and I'm really finding that it's less and less a part of the conversation of how should it be or "I'm feeling it needs to be like this." It's much more about, how do I want it to look, how do I want to represent it to the world with my identity. I think that this wave—we're calling it the "Mare wave" at the salon—because it really is so individual, it is fun to have texture in your hair. That whole narrative of perfect hair being smooth and shiny and every hair in place… I think it's way more about accentuating a natural aesthetic [now].
What message are sending through your clientele on the red carpet about natural hair? My approach is never to take away, it's really is about enhancing what is already there. So for red carpets, it's specific in that there are all these cameras, you are all dressed up in these beautiful dresses, and having your hair enhanced is not a bad thing, I just never want to take away. It really is just about adding these subtle tweaks and movements into the hair that really are already there. I do less blow drying and smoothing because that's just more my aesthetic.
What changes in the beauty industry are you most excited about and what trends do you hope to see more of? I really hope to see a more positive message in the beauty industry. I think that the truth is that we are enough and if you want to have fun with it, that's great but it's totally your choice. I see the perm as a really awesome option to sort of experience yourself in a way that you haven't gotten too.
What is your message to young women about their hair? My message to young women is that they are beautiful and the things that make us different are the things that are uniquely our own. I think that's something you appreciate more as you get older, so I would say it can be hard when you have this image of what is ideal but I think we're moving further and further from that image being this odd, symmetrical perfection and more into this natural, authentic beauty. Human beings are beautiful, women are gorgeous, they are limitless truly. And I think that we are really starting to embrace that in a way and talk about it in a way that we didn't before. So, how we see ourselves and how we hold ourselves, I think it's going to be completely different for young women, they can see that and know that they are truly beautiful.
How does beauty and the way we look influence change in our culture? I think it really is going to be more and more about the individual and come from a place of, This is for me, this is who I am, and less of, This is what it should be. It's coming from a place of love and I think it's an appreciation for yourself.
Call It the Cara Delevingne Effect: Blonde Hair and Dark Brows Are the Hottest Hollywood Trend
Pretty Little Liars actress Ashley Benson makes the case for taupe smoky eyes to perfectly compliment her bold brows.

@ashleybenson
Game of Thrones actress and British beauty Emilia Clarke brunette brows make her platinum locks a standout.

@emilia_clarke
Actress and model Cara Delevingne, who has always been know for her bold brows, proves that a platinum pixie serves as the ultimate hair accessory.

@caradelevingne
Model Hailey Baldwin pairs her luscious blonde waves and dark brows with a pale nude lip.

@haileybaldwin
Singer Katy Perry proves that a bold brows and a dramatic smoky eye go hand in hand.

@katyperry
Kim Kardashian is no stranger to going blonde, but always keeps her dark brows intact.

@kimkardashian
In the latest to test drive a platinum do, actress Lily Collins' blonde locks makes her bold brows the ultimate beauty statement.

@lilyjcollins
I, Tonya actress Margot Robbie natural beach waves and clean skin make an enviously chic look.

@margotrobbie
Suki Waterhouse proves that messy bangs and unkept brows is your go-to low maintenance look.

@sukiwaterhouse
Singer Selena Gomez, who ditched her brunette locks for new platinum waves, kept her dark brows for more dramatic effect.

@hungvanngo