A Definitive Ranking Of Every Kardashian-Jenner Music Video Cameo
The Kardashians and Jenners have played plenty of musical love interests over the years—but how do they stack up?
---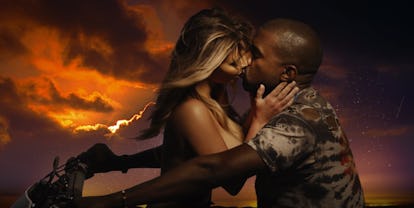 The Kardashian-Jenner clan are a busy bunch. There are beauty empires, reality shows, modeling gigs, magazine covers, iPhone apps, emojis, websites, and, of course, babies to be had. On rare occasions, the most famous sisters in America even make cameos in music videos.
Today, the latest entry in the niche genre was released, as Li'l Dicky, an actual rapper with an actual record deal, released the video for his new single, "Freaky Friday." The conceit: À la the seminal 2003 Lindsay Lohan–starring film of the same name, a magic fortune cookie leads to a body switcheroo. In this case, Li'l Dicky (yep, still his name) switches bodies with Chris Brown. The video is about four minutes of bro jokes best left on Judd Apatow's cutting-room floor, until—spoiler—enter Kendall Jenner, who at the end of the clip has been inhabited by Li'l Dicky.
In honor of Jenner's latest iMDB credit, it bears taking a look back at the family's past cameos to see how they stack up against each other. Here, a definitive ranking of Kardashian-Jenner music video cameos (kameos?), from worst to best.
12. Lil Dicky – "Freaky Friday" feat. Chris Brown
Problematic video aside, the Jenner appearance only comes in the video's final seconds, meaning you have to sit through five minutes before you even get a glimpse of those glossy locks. And when you do, it'll just make you sad. Kris Jenner, how did you possibly sign off on this?
11. Every Tyga Video that Kylie Starred In
Before Stormi Webster was even a twinkle in Kylie Jenner's eye, there was Tyga. The then-25-year-old rapper and the beauty mogul claimed to be just friends—until Jenner's 18th birthday, of course. Two weeks later, Tyga dropped his video for "Stimulated," featuring Jenner and making it pretty clear these two were more than friends. She'd go on to star in another clip of his, but this is really all you need to get a good idea for it. You'll want to wash your computer in Purell afterward, too.
10. The Black Eyed Peas – #WHERESTHELOVE ft. The World
Did the world really need a remake of the Black Eyed Peas song "Where Is the Love"? The answer is no. But in 2016, that's what we got, along with a music video starring the likes of Kendall Jenner, Shailene Woodley, Connie Britton, Vanessa Hudgens, Olivia Munn, Lance Bass, and Jessie J. In fairness, the remake was made in response to the Black Lives Matter movement—but when you consider Jenner's future Pepsi blunder, everyone probably wishes she didn't make this particular cameo.
9. French Montana – "Don't Panic"
During an offseason of Keeping Up With the Kardashians, the E! network needed something to fill that Sunday night time slot, and thus Kourtney and Khloé Take the Hamptons was born. It was pretty good! A highlight of the season was the appearance of Khloé's then-boyfriend French Montana, who required subtitles despite speaking in English. Naturally, she made an appearance in one of his music videos during that time frame. It's not very good.
8. Jaden Smith – "Blue Ocean"
Before Stormi AND Tyga, a young Kylie dated fellow scion Jaden Smith, who, after their breakup, wrote this very emo song about her. Don't worry, though—the two remained friends, and she even appeared in the music video for the song. As for the song itself, it is perhaps best summed up by YouTube commenter Trey Donovan: "never seen a rich kid so sad lmao."
7. PARTYNEXTDOOR – "Come and See Me"
Another rumored Kylie fling, another video appearance. This is about as forgettable as PARTYNEXTDOOR himself, but at least there is some acting involved?
6. Justine Skye – "I'm Yours" (Lyric Video) ft. Vic Mensa
Just your average group of incredibly famous and wealthy teens hanging around, singing to their pop star best friend's hit song. Oddly, it works!
5. Kendall and Kylie as Boy Band Love Interests
Back in the day, both Kendall and Kylie starred as generic love interests in generic music videos for generic boy bands. Which one was better? Who can say! (Although, bonus points for Kylie's natural lips.)
4. Fergie – "Enchanté (Carine)" ft. Axl Jack
This is cute! It's Kendall in her natural habitat (wearing clothes), and she looks damn good doing it. It's like a particularly good Target commercial, and we mean that in the nicest way.
3. Fergie – "M.I.L.F. $"
Listen, is a song named "M.I.L.F. $" going to win any Grammy Awards? No. But this is a damn fun music video, and honestly, a very catchy song. There are plenty of cameos here, with everyone from Chrissy Teigen to Amber Valletta to Ciara to Devon Aoki, in one of her first appearances in years. (Speaking of, D.E.B.S. is a criminally underrated film, but that's neither here nor there.) Of course, the one and only Kim Kardashian all but steals the show, dousing her latex-clad body in, yep, milk. What more could you want?
2. Kanye West – "Bound 2"
One word: iconic. Moving on.
1. Fall Out Boy – "Thnks fr th Mmrs"
We, collectively as a nation, do not talk enough about the fact that back in 2007, Kim Kardashian hooked up with a monkey in a Fall Out Boy music video. That is an actual thing that happened! To say it was a different time is a gross understatement; this was before Keeping Up With the Kardashians premiered, and, thus, before Kardashian became a household name. But still, it's insane! According to a 2007 interview, Kardashian knew the band through their stylist (that guyliner isn't going to apply itself). "I'm a fan of Fall Out Boy and I agreed to do it," Kardashian said. "And it was so much fun working with them…. I think music videos kind of all show the same thing. They kind of want a hot girl and cool cars. This one was totally different." No kidding.
In the video, Kardashian plays Pete Wentz's love interest, before turning her attentions to the music video director…played by a monkey. "I remember my first scene, I had to sit there and watch the boys perform and I had all the monkeys sitting next to me," she said. "It was so scary because the trainer was saying, 'Don't call them by their name. Don't look at them in the eye,' basically freaking you out—like 'Don't move.' Then the director is calling, 'Action!' and wants you to move. It was really scary because they're so strong and you don't know what they're gonna do. And in my scene they had to freak out a little bit, so they were freaking me out a little bit when they had to jump up and down and scream."
And there you have it.
Related: From Taylor Swift to Drake, a GIF History of Intentionally Goofy Dancing in Music Videos