Ewan McGregor Is Reportedly Dating Mary Elizabeth Winstead After Quietly Splitting From His Wife of 22 Years
He was spotted kissing his Fargo co-star over the weekend.
---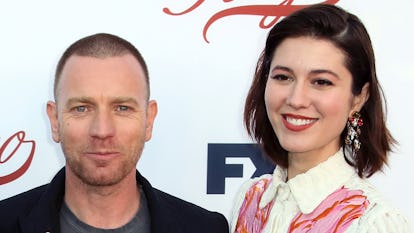 David Livingston/Getty Images
The heartbreaking hollywood breakups keep coming in surprising fashion. Ewan McGregor was spotted kissing his Fargo co-star Mary Elizabeth Winstead in London over the weekend, sources confirmed that his 22-year marriage to production designer Eve Mavrakis has been over for several months.
On Sunday, British tabloid The Sun published a series of photos showing McGregor and Winstead, who play an engaged couple on the FX show, getting close and sharing a "passionate smooch" at a London café. The pair reportedly left the restaurant together on McGregor's motorcycle.
Mere hours later, a "family source" told People that McGregor, 46, and Mavrakis, 51, have been separated since May. The pair met on the set of British crime show Kavanagh QC and tied the knot in 1995 a year before McGregor's star making turn in Trainspotting. Their relationshiop has been farely low key publicity wise, but the couple share four daughters: Clara, 21; Jamyan, 16; Esther, 15; and Anouk, 6.
Winstead, 32, is also recently divorced. In May, she and longtime love Riley Stearns, a writer and director who she's known since she was a teenager and married in 2010, announced their amicable split in a pair of since-deleted Instagram posts. "Sitting here with my best friend who I love with all my heart. We have spent our lives together and it has been full of joy and warmth every day. We've decided to move on from our marriage, but we will stay best friends and collaborators for all our days. We are still ride or die, just in a different way now. I love you always, Riley," Winstead wrote, according to The Cut.
Stearns's post about the split was equally heartfelt. "I met Mary 15 years ago and we've been the most important people in each other's lives ever since. Those lives have been full of every emotion imaginable and we've embraced it all. Life is unpredictable though. While we will still be in each other's lives we will no longer be living those lives together. We still love each other very much but we're different people with different paths and different futures. I can't wait to see where we both end up. I'll always love you, Mary," he wrote.
Winstead and McGregor played an ex-con and probation officer, respectively, who end up engaged on the third season of anthology series Fargo, which aired earlier this year. Of playing an onscreen couple with Winstead, McGregor told The Hollywood Reporter in August, "I loved it. I loved working with Mary very, very much. I think it was a very special acting experience. We're both very similar actors. It was great fun playing those scenes with her, and I loved it."
Related: Clara McGregor, Ewan's Daughter, Is Ready for Her First Fashion Week
Leonardo DiCaprio's Notorious Dating History: