Model Fei Fei Sun Recommends Using A Facial Massager For the Ultimate Skincare Regimen
Model Fei Fei Sun, Estée Lauder's newest spokesmodel, opens up about all things beauty, skincare and fitness.
---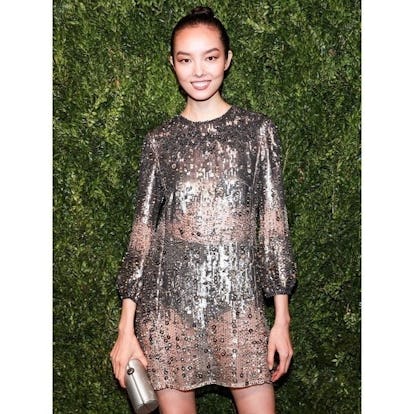 You may know model Fei Fei Sun as a longtime runway and editorial regular, gracing the catwalks of Chanel and Prada to the inside pages of W, but the 28-year-old has just added a new milestone to her resume as Estée Lauder's newest spokesmodel. Over her many illustrious years in the industry, Sun has perfected quite beauty regimen, and has the skincare and beauty routine to prove it. From her love for face masks and epsom salt baths to the importance of wearing SPF and getting a good night's rest, the Chinese beauty knows how to maintain healthy, radiant skin. Here, Sun shares her five minute beauty routine, her love of fitness, and more.
Your look in three words:
Natural, fresh, and healthy.
Medicine cabinet snapshot:
As a model, keeping my skin clean is very important to me. At night when I sleep, my priority is repairing my skin. Three skincare products that I can't live without are Estée Lauder's Perfectly Clean Multi-Action Foam Cleanser/Purifying Mask, Advanced Night Repair and Revitalizing Supreme Plus Global Anti-Aging Cell Power Crème.
Good skin starts with:
Advanced Night Repair. Usually I massage my face for five minutes after applying the serum with my Golden Pulse facial massager.
Best advice from your dermatologist:
My dermatologist told me that when you fly, you're closer to the sun and its harmful rays, so UV protection is a must. Never fly without SPF.
Best advice from your facialist:
My facialist taught me that hydration is the key to healthy skin. Drinking a lot of water and using a moisturizing mask every other day is an easy way to maintain hydration. The Estée Lauder Advanced Night Repair Concentrated Recovery PowerFoil is so great, the foil helps to warm up the skin, so the moisture absorbs quickly, and the experience relaxes me.
SPF of choice:
Estée Lauder DayWear Advanced Multi-Protection Anti-Oxidant & UV Defense SPF 50. When I go running on the West Side Highway, I wear a baseball cap to protect my hair and shade my face. If I am at the New York City flower market on 28th Street early in the morning, or the Union Square farmers market in the afternoon, I wear sunglasses to protect my eyes from the sun.
Makeup miracles:
Pure Color Envy Lipstick in Tea Rose and Double Wear concealer.
Most underrated product:
Lip balm! It's not very sexy, but is so essential. Chapped lips are my biggest pet peeve. Starting with lip balm makes whatever lip color I use look so much better.
Never leave the house without:
I never leave the house without SPF; these days, it is DayWear Advanced Multi-Protection Anti-Oxidant & UV Defense SPF 50. Then I use Estée Lauder Double Wear concealer in light to cover dark circles. After that I apply Double Wear Highlighting Cushion Stick in Champagne Glow under the brow bone, cheek, and on the bridge of my nose. The most important part is to curl eyelashes with my eyelash curler and then apply mascara. Usually I use Estée Lauder Little Black Primer to apply a second coat. The wand is the best shape to catch the every single one of my eyelashes, even in the corner of my eyes. The last step before leaving my house is applying lipstick in Pure Color Envy Sculpting Lipstick in Rose Tea.
A good hair day starts with:
Leonor Greyl Shampooing au Miel and Moroccan oil. Simple and easy. These products keep my hair clean and shiny, that is the best way to start a good hair day.
Nails must be:
Never forget to use a base coat. It helps to protect nails from being stained by the polish.
Beauty from the inside out:
Goji berries. Usually I eat 10-15 grams of them a day. They are delicious in rice soup, white mushroom soup, or eating them on their own.
Exercise obsession:
Physical fitness has always been a passion of mine, I was a swimmer before I became a model. Nike sponsors my training, so sometimes I work out at their gym on Grand Street. My trainer, Traci Copeland, often trains me at the gym in my building. She helped me develop a workout routine I can do anywhere I am in the world, even in a hotel.
Drink of choice:
Juice. I love different mixed juices, like carrot with a citrus (orange or grapefruit). I always add a little bit of ginger, which is so great for my stomach.
Appointment you'd love to nab:
Jin Soon Nail Salons. There are several locations, but my favorite is on 37 Walker Street in New York City.
Spa-cation at:
My bathroom is the best spa! Totally private and calm. Revitalizing Supreme+ Global Anti-Aging Instant Refinishing Facial is a wonderful facial in a bottle. Bronze Goddess Body Salt Scrub is the best way to detox after the gym, the salt is like an instant pedicure, and the oils keep my skin soft.
TSA-friendly essentials:
Lip balm, and Bronze Goddess Shimmering Oil Spray in the 1.7-ounce bottle is great because I can use it for so many things, like a body oil or hair refresher, and the fragrance is gorgeous. Also, Revitalizing Supreme+ Creme, Golden Pulse facial massager, and Micro Essence Aquaceutical Mist. The mist comes in a 2.5-ounce bottle, the spray keeps my skin hydrated on the long flight home from New York to China.
In-tub must-read:
The bath is the best place to soak in epsom salts, they help my muscles relax after working out with Traci. My favorite is Dr. Teal's Epsom Salt Soaking Solution in Chamomile because it is so soothing. In school I studied fashion design, with a significant liberal arts course load as well. I love reading for pleasure, especially reading memoirs or biographies of successful women. I am always curious how they overcame challenges, and made their dreams come true.
Best advice from mom:
Wear sunscreen every day.
Best-kept beauty secret:
Smile more and get your beauty sleep. Sleep is the bodies way of preparing in the most easy and natural way. A good night's sleep is one of life's biggest beauty boosters.
Beauty myth you'd like to debunk:
Brushing your hair 100 strokes a day will make it shine. Absolutely not. Hair will break if you tug on it too much.
Definite doppelgänger:
When I look in the mirror, I can see how much I resemble my mother, especially my lips.
[#article: /articles/59e1adc4ee32f97c78ecaf34]||||||