Jet-Set Model Vanessa Axente Makes a Case for Regular Facials, Argan Oil and Hungarian Spas
The model shares her skincare, fitness and nutrition essentials.
---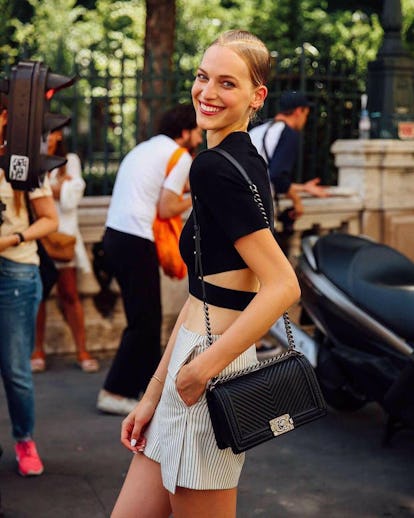 Hungarian model Vanessa Axente has a lot to celebrate these days: she recently walked in both Paris Haute Couture and Men's Fashion Week, and and is now the face of DKNY's new fragrance Nectar Love. Naturally, she requires a strict health and fitness regimen to maintain her flawless complexion and toned physique. Here, Axente reveals her best beauty and skincare tips (as well as her favorite Hungarian spa).
Your look in three words:
Natural, fresh, sexy.
Medicine cabinet snapshot:
You would find my hydrating moisturizing cream for the daytime, serums, eye creams, night cream, Bioderma Sensibio H2O and Omorovicza Queen of Hungary Mist, it's perfect for traveling. I have a lot of oils, argan oil for my hair and skin, almond oil and coconut oil and Omorovicza has this Firming Body Oil.
Good skin starts with:
I always wash my face with cold water and then I apply a serum for redness because I have rosacea, I use Darphin Intral Redness Relief Soothing Serum, an eye serum and a moisturizer that I massage for 2-3 minutes. Also, drinking a lot of water.
SPF of choice:
La Roche-Posay sunscreen.
Makeup miracles:
Estée Lauder Double Wear Concealer and blush, Bobbi Brown lipstick in a classic red color or natural shade, and mascara. I have two different kinds, Helena Rubinstein which is jet black and By Terry mascara that's a very natural, brown color.
Most underrated product:
Lip balm. I've used Nuxe Ultra-Nourishing Lip Balm for a long time and switched to Omorovicza Perfecting Lip Balm, I love the smell.
Never leave the house without:
Concealer under the eyes and little around my nose, curling my lashes, a little black mascara, fixing my eyebrows, a touch of blush and a little bit of highlighter.
A good hair day starts with:
If I want to wake up with the perfect hair, I do a chignon at night and sleep with that and when I take it out in the morning it's kind wavy, but not too perfect. And I put a lot of oil, for me argan oil gives that nice shiny, soft touch.
Nails must be:
I always love them natural and short.
Beauty from the inside out:
I eat of lot of vegetables, fruits and fish. I drink a lot of water, green tea, I try not to drink milk but unfortunately I like drinking coffee, but I try to find a good balance. I eat everything though, just not sugar. Even if I make a cake, I try to use honey or natural sweeteners.
Exercise obsession:
I love SoulCycle and I'll do Ballet Beautiful if I'm in New York longer than a week, and I love going for a run on the West Side Highway.
Drink of choice:
I love juices and I'll always have one coffee in the morning.
Product that you picked up from the pros:
I really like the Madina Milano Chic & Shine Stick that Pat McGrath uses all the time.
A woman should smell like:
DKNY Nectar Love, of course!
Spa-cation at:
Here in New York, I would recommend Aire Ancient Baths, it's very relaxing. Hungary is really famous for spas and thermal bath houses, there's one that's very famous called the Szechenyi Baths that I like. And also the Four Seasons has an amazing spa where you can get a special mud treatment.
TSA-friendly essentials:
Hand sanitizer, Omorovicza Queen of Hungary Mist, hand cream, lip balm, moisturizer and Estée Lauder Advanced Night Repair Eye Mask which has so much serum that I always put it around my face. It's the best for when you are come off a long flight and need to look fresh.
In-tub must-read:
I read a lot of psychological and biography books, and I recently read Shoe Dog: A Memoir by the Creator of Nike by Phil Knight which was a really exciting and inspiring book.
Best advice from mom:
Smile and be positive, because then all the good things will come to you.
Best-kept beauty secret:
Getting facials every month.
Beauty myth you'd like to debunk:
That wearing makeup every day is bad for your skin.
Definite doppelgänger:
A young Uma Thurman and Karolína Kurková.
The Secrets of Professional Beauties
Watch: Gigi Hadid Reveals Her Go-To Makeup Tips