2017: Feminism Is Merriam-Webster's Word of the Year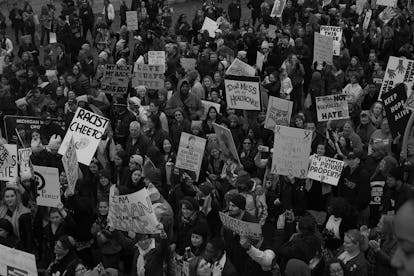 Photo by Victoria Stevens.
Merriam-Webster's word of the year has just been revealed and it couldn't be more topical. Feminism has the honor of being the most-looked up word of 2017 in the online dictionary. Merriam-Webster revealed a handful of reasons why the noun became ubiquitous this year, starting with the Women's March in Washington, DC, and cities across the United States, which coincided with Donald Trump's first official morning as president. Apparently, on the heels of the march, the number of instances where someone was looking up "feminism" greatly spiked. Not only did the word appear on countless signs at the event, which was the largest single-day protest in U.S. history according to political scientists via The Independent,, it also appeared in countless writeups. That included W's own where Bob Bland, the march co-chair and fashion designer best known for her "Nasty Woman" shirts, said before the 2016 presidential election she "didn't even consider myself a feminist… and it wasn't because I'm not a feminist — I just didn't really know what it meant." Clearly, she wasn't alone.
Feminism, which showed an overall 70 percent increase of lookups over 2016, also spiked after Kellyanne Conway proved she, too, didn't know the definition of a feminist. Recall in February when Trump's campaign manager Kellyanne Conway equated feminism with being "anti-male" and "pro-abortion" and declared that many of the Women's March protestors "just have a problem with women in power," at the Conservative Political Action Conference at National Harbor. "It's difficult for me to call myself a feminist in the classic sense because it seems to be very anti-male and it certainly is very pro-abortion, and I'm neither anti-male or pro-abortion," she said, as The Washington Post reported. "So, there's an individual feminism, if you will, that you make your own choices…. I look at myself as a product of my choices, not a victim of my circumstances." For the record, Merriam-Webster defines it as "the theory of the political, economic, and social equality of the sexes" and "organized activity on behalf of women's rights and interests."
This year's spike in searches for feminism can also be attributed to pop culture phenomenons like The Handmaid's Tale and Gal Gadot's Wonder Woman, according to Merriam-Dictionary. "Trump or no Trump, Wonder Woman stands for beauty, truth, love, and goodness," Gadot told W earlier this year of why the film resonated so much. (It made history at the box office as not just the highest-grossing, female-directed live-action film but also the highest-grossing hero of DC's Extended Universe.) "She understands that finding the truth is complicated, but she will always be kind. There's something very reassuring about that, especially now."
At the intersection of feminism and Hollywood this year was also the #MeToo movement, started in 2006 on Twitter by activist Tarana Burke which boiled over this year as dozens of women in the entertainment industry including Angelina Jolie, Gwyneth Paltrow, Jennifer Lawrence, Uma Therman, Lupita Nyong'o came forward with their own stories of sexual abuse. For possibly the first time, there were real consequences, too, leading to the outing and firing of men like Harvey Weinstein, Kevin Spacey, James Toback, Matt Lauer, Russell Simmons, Brett Ratner and dozens more with the notable exception of the 45th president, Trump, who has been accused of everything from sexual harassment to rape by dozens of women. Accordingly, Merriam-Webster connects the outpouring of sexual assault allegations to increased lookups of feminism.
"No one word can ever encapsulate all the news, events, or stories of a given year, particularly a year with so much news and so many stories," Merriam-Webster editor-at-large Peter Sokolowski said in a statement. "But when a single word is looked up with great volume, it also stands out as one associated with several different important stories. We can learn something about ourselves through the prism of vocabulary."
One takeaway? Using your voice to rally for equal human rights — and, even, making that statement sartorially as "power" was the most-used word of the year in fashion — has never been more on trend.
Related: These Four Women Are the Faces of Feminism, According to New Poll