Fergie's "Save It Til Morning" Music Video Depicts an A-List Couple's Breakup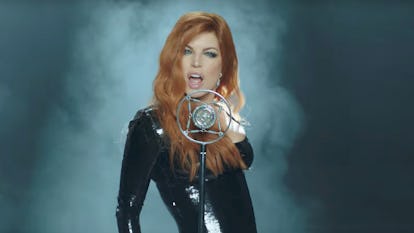 FergieVEVO/YouTube
If you're still working through Fergie and Josh Duhamel's split, you might want to avoid watching Fergie's latest music video. The "Save It Til Morning" video, which was released last Friday (along with her second solo album, Double Dutchess) and portrays the lonely, tumultuous end of a famous couple's relationship, is sure to reopen some very painful wounds.
In the clip, Fergie plays, well, a famous singer, while Jay Hernandez, aka the hot widower from Bad Moms, plays her music producer–love interest. The video flashes back and forth in time: Scenes from early on in the relationship, when the pair got hot and heavy in a recording booth, are interspersed with shots of Fergie and her beau arguing in a luxury apartment and sitting in icy silence in the backseat of a car, before stepping onto a red carpet and putting on a happy face for the paparazzi. The video ends with Hernandez waking up in an empty bed just before 5 a.m., while Fergie is driven alone into the titular morning, the sun rising around her.
Throughout the music video, the 42-year-old is shown wearing a form-fitting black sequined dress and standing alone on a stage while singing lyrics hinting at a lover's contentious, controlling qualities. "All the careless words you throw at me / It's hard to scrape them off," she sings at one point, adding at another, "We can kick and fight, stay up all damn night / Thinking you and I are enemies." But the ballad's triumphant chorus mirrors the video's ending: "This girl is walking, walking / If you start talking, talking / 'Cause baby we're about to blow / Don't tell me things you'll be regretting / 'Cause I'm never gon' forget 'em."
While it's unclear whether the song's lyrics are explicitly about Duhamel, the video's imagery, combined with its being released barely a week after the pair announced their separation, would reasonably imply that at least some aspects of "Save It Til Morning" were inspired by the end of Fergie and Duhamel's eight-year marriage. They announced the sad news on September 14, several months after their initial separation.
"With absolute love and respect we decided to separate as a couple earlier this year," they said in a joint statement to People. "To give our family the best opportunity to adjust, we wanted to keep this a private matter before sharing it with the public. We are and will always be united in our support of each other and our family."
The video is the latest from Fergie's upcoming "visual experience" album Double Duchess. Just last week she premiered the Kendall Jenner-starring video "Enchanté (Carine)."
Related: Fergie Quietly Made Her Comeback in Brooklyn Last Night, Complete with a Couple of Surprise Kardashians
Remembering 2017's Most Devastating Celebrity Breakups
After ringing in 2017 together on New Year's Eve last year, it seems Nina Dobrev and Glen Powell will be making alternative plans come midnight for 2018, as the pair is rumored to have split after just under a year of dating.

Jason Merritt
Despite weathering the storm of their controversial film mother!, Jennifer Lawrence and Darren Aronofsky split after a year of dating following the film's release.

James Devaney/Getty Images
After being engaged for nearly a decade, Jennifer Hudson called it quits with David Otunga in November, as well as receiving a protective order of their 8-year-old son that they share.

Jim Spellman
After ten months of dating—and one public outing to the Met Gala—Selena Gomez and The Weeknd called it quits in October, just a few days after Gomez was spotted having breakfast with her ex-boyfriend Justin Bieber.

Karwai Tang/Getty Images
Heidi Klum started dating Vito Schnabel, an art dealer 13 years her junior, two years after she separated from Seal, but after putting in plenty of beach time, the pair decided to call it quits this year.

Victor Boyko/Getty Images
After nearly a decade together, it was reported that Rachel Bilson and Hayden Christensen had split in September 2017.

Michael Buckner
Together since 2004 and married in 2009, Fergie and Josh Duhamel announced they would be splitting in September.

JB Lacroix
Anna Faris and Chris Pratt split during the summer after 8 years together.

Rune Hellestad – Corbis
Scarlett Johansson began dating Romain Dauriac in 2012, and the pair married in 2014 before splitting in January.

Getty
Alexander Skarsgard and Alexa Chung were first seen together in 2015, and split earlier this summer.

Getty
Olivia Munn dated NFL player Aaron Rodgers for nearly three years, before breaking up in late spring.

Getty
Amy Schumer famously met furniture designer Ben Hanisch on an dating app; the pair dated for over a year.

Getty
Jenny Slate and Chris Evans quickly became an Internet-beloved couple when their pairing was revealed in 2016, but split after a year.

Getty
Despite an infamous paddle-board trip together, Katy Perry and Orlando Bloom split after just over a year together.

Getty
The teen set's coolest couple, Jaden Smith and Sarah Snyder, broke up after nearly two years of dating.

Getty
Jane Fonda split from longtime partner record producer Richard Perry after nine years together in January.

Getty
After nearly two decades together, Summer Phoenix and Casey Affleck separated last year, officially filing for divorce last week.

Getty
After dating for a decade, Paramore singer Hayley Williams and New Found Glory frontman Chad Gilbert married in 2016, only to file for divorce a year later.

Getty
Janet Jackson gave birth to her first child, with husband Wissam al Mana, in January; the pair filed for divorce in April.

Getty
Together for nearly 15 years, Jesse Williams split with longtime wife Aryn Drakelee-Williams in April.

Getty
Jemima Kirke married lawyer Mike Mosberg in 2009; the duo separated in January.

Getty
Supermodel Elle MacPherson split from Florida-based hotel heir Jeffrey Soffer earlier this year.

Getty
Phoebe Tonkin and Paul Wesley met on the set of The Vampire Diaries, and stayed together for nearly four years.

Getty
After a tumultuous year together, Rob Kardashian and Blac Chyna officially split this spring.

Getty
After 17 years of marriage, Ben Stiller and Christine Taylor announced their separation in May.

Getty
In January, Nicki Minaj announced on Twitter that she had split from boyfriend Meek Mill.

Getty
After nearly two decades together, basketball star Carmelo Anthony and La La Anthony broke up earlier this year.

Getty
David Schwimmer separated from British artist Zoe Buckman after a decade together.

Getty
Billie Lourd briefly dated Scream Queens co-star Taylor Lautner before calling it quits this summer.

Charley Gallay
Mariah Carey got over her called-off engagement to James Packer by briefly dating dancer Bryan Tanaka.

Getty
Kendall Jenner Gets Real: "I'm Weird, I Love My Tits Being Out":