George Clooney Wants to Be a TV Star Again
Despite the fact that he doesn't "need money."
---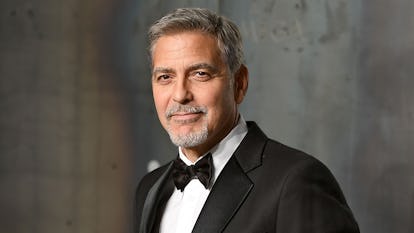 Mike Marsland/Getty Images
George Clooney has been an A-list movie star for nearly two decades, but the actor is now returning to prime time.
Clooney's younger fans might not remember the lauded actor actually got his start on the small screen, spending over 100 episodes as ER's Doug Ross. But now, like so many movie stars before him, Clooney is heading back to TV as the lead in an adaptation of the classic war novel Catch-22. For those who don't know, here's a quick run-down of the book (and now, Clooney-helmed project): Yossarian is an air force captain during World War II who is disillusioned by the fighting, frustrated that he seems to be nothing more than a cog in the wheel of violence that threatens his life for the gain of those above him. Clooney will play Colonel Cathcart, the officer over Yossarian who sees the war as an opportunity to move up the ranks. Clooney won't just be an actor on the project, he's also slated to direct the six-part series, which will begin shooting sometime next year, according to Deadline.
The limited series must be a passion project for Clooney, as he explained in a recent interview, an investment has given him enough money to forgo any future acting projects. "Acting used to be how I paid the rent, but I sold a tequila company for a billion f** dollars," he explained to The Sunday Times.* "I don't need money."
Still, this new role does seem to fit with some self-reflection the actor has done about what parts work for him as an actor in his late 50s. "Look, I acted for a long time and, you know, I'm 56. I'm not the guy that gets the girl anymore," he explained. In Catch-22, he can be the guy who gets the military titles instead.
Hollywood Heartthrob George Clooney Has Come a Long Way Since the '80s
A long-haired, youthful George Clooney attended a celebrity basketball game in 1989 wearing a leather vest, jeans, and a printed shirt.

WireImage/Getty Images
With his hair still long and wavy, the actor ditched his denim-and-vest ensemble for a navy suit and printed tie to attend a party in 1989.

WireImage/Getty images
Leaving the airport in Los Angeles in 1995, Clooney looked simple and chic in navy chinos, a white t-shirt, and round sunglasses.

WireImage/Getty Images
Attending the 52nd annual Golden Globes in 1995, Clooney looked like a classic heartthrob in a classic suit and bow-tie.

WireImage/Getty Images
Ditching the long hair he is seen here at the 48th Emmy Awards in 1996 wearing a classic tux and with his now well-known salt and peppery hair.

Frank Trapper/Getty Images
At the premiere of "The Peacemaker" in 1997, Clooney chose a more casual look on the red carpet, leaving the collar of his shirt unbuttoned.

Frank Trapper/Getty Images
George Clooney and his girlfriend Celine Balitran hit the red carpet in 1998. The actor took a fashion risk, wearing a maroon-colored suit.

Frank Trapper/Getty Images
Clooney dressed for the occasion at GQ's Men of the Year award ceremony in 1998.

Steve Azzara/Getty Images
Off the red carpet, Clooney wore a denim-on-denim outfit.

WireImage/Getty Images
Clooney took home a Golden Globe award at the 58th Annual Golden Globes wearing a classic tux.

SGranitz/Getty Images
Attending Venice Film Festival in 2005, Clooney wore a classic suit while on a boat with the actress Patricia Clarkson.

Venturelli/Getty Images
Posing with longtime friend Brad Pitt in 2008 at the press event for "Burn after Reading," Clooney wore a classic, Italian-style suit.

Philip Ramey Photography, LLC/Getty Images
Stepping out after an appearance on "The Late Show with David Letterman," Clooney looked sophisticated in a navy, pinstripe suit.

WireImage/Getty Images
Clooney kept it classic at the 69th Golden Globes in 2012, where he took home the award for best actor.

Frank Trapper/Getty Images
George Clooney wore a perfectly tailored grey suit and sunglasses to celebrate his marriage to Amal Clooney in Venice.

Robino Salvatore
Amal and George Clooney cemented their status as one of Hollywood's most stylish couples while attending the Met Gala in 2015.

Lars Niki/Getty Images
George and Amal Clooney landed on all the best dressed lists at the 72nd annual Golden Globes in 2015 with their homage to Hollywood glam.

Frank Trapper/Getty Images
Always ahead of the trends, Clooney wore colored sunglasses with a well-fitting suit to the Cannes Film Festival in 2016.

Tony Barson/Getty Images
Clooney shared a moment with his longtime friend, the actress Julia Roberts, on the red carpet at the Cannes Film Festival in 2016. Both wore elegant, classic ensembles for the occasion.

Tony Barson/Getty Images
Wearing a turtleneck instead of a traditional collared shirt, Clooney makes a case for casual red carpet style while attending the "Hail Cesar" premiere in 2016.

Steve Granitz/Getty Images
George Clooney looked both comfortable and sophisticated wearing a knitted scarf and suede jacket while walking around Paris with his wife Amal in 2017.

NurPhoto/Getty Images
Actor George Clooney kept it classic in a tuxedo at an Omega Event in 2017.

Craig Barritt/Getty Images
George Clooney and Amal Clooney walk the red carpet ahead of the 'Suburbicon' screening during the 74th Venice Film Festival at Sala Grande on September 2, 2017 in Venice, Italy.

Pascal Le Segretain
George Clooney attends the "Suburbicon" premiere during the 2017 Toronto International Film Festival at Princess of Wales Theatre on September 9, 2017 in Toronto, Canada.

Joe Scarnici
George Clooney, Amal Clooney arrives at the Premiere Of Paramount Pictures' "Suburbicon" at Regency Village Theatre on October 22, 2017 in Westwood, California.

Steve Granitz
Watch George Clooney Take W's Screen Test