George Clooney Is Auctioning Off One of His Motorcycles Because Amal Wants Him "Off Two Wheels"
He was in a scooter accident over the summer.
---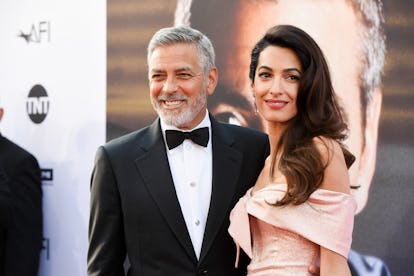 Presley Ann/Patrick McMullan via Getty Images
Amal Clooney, noted human rights lawyer, continual visiting professor at Columbia Law School, and mom of two, has enough on her plate without also having to worry about husband George Clooney being thrown off one of his beloved motorcycles. As a result, following an incident in July in which George was, indeed, hit by a car and thrown off a scooter in Italy, Amal seems to have barred him from riding any and all two-wheeled motorized vehicles.
Evidence of this ban came courtesy of the Homes for Our Troops Veterans Day Celebrity Auction organized by Ben Stiller, Jake Tapper, and Kenny Chesney, who have enlisted the help of many of their A-list friends to auction of experiences and memorabilia, with proceeds going to build accessible homes for injured veterans. For his part, Clooney is auctioning off an autographed Harley-Davidson Dresser Touring Ultra Limited FLHTK motorcycle. The item's description, presumably written by Clooney himself, regretfully explains, "Ever since George Clooney's motorcycle accident, his wife Amal has told him he's off two wheels for good. George just bought a brand new dresser Harley with only 25 MILES ON THE ODOMETER!— all yours if you win the bidding."
If you're interested in calming Amal's worries and taking the bike off George's hands, all you have to do is win the auction—bidding starts at $25,000 and will close on November 15—and make your way to Los Angeles to pick up the Harley. Fortunately, you'll only need a one-way ticket, since, without an Amal-imposed motorcycle ban in your life, you're free to drive it back home from L.A.
In honor of George's saying goodbye forever to a life on two wheels, here's a photo of him riding a different motorcycle:
The July accident took place in Sardinia, Italy, where the Clooneys were staying over the summer while George filmed the upcoming TV adaptation of Catch-22. According to reports and surveillance video, the Oscar winner was riding a motorized scooter on a countryside highway when the driver of a Mercedes-Benz turned without looking, causing George to smash into the car's windshield. The actor was taken to a nearby hospital—where Amal reportedly rushed to be by his side—but he was released within a few hours, with his publicist confirming shortly after that he was "recovering at home and will be fine." Neither of the Clooneys has addressed the accident since, but it seems that we now know exactly how Amal felt about the whole ordeal.
Related: Screen Test: George Clooney