Gisele Bündchen and Tom Brady's Home Is Officially Off the Market, at a Cool $13.95 Million
The power couple sold their New York City home for a reported $13.95 million.
---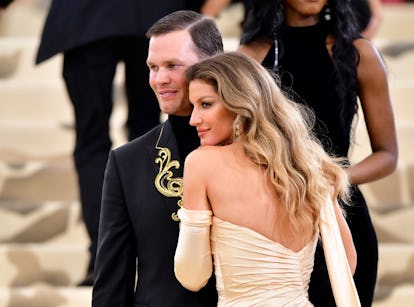 James Devaney/Getty Images
Any dreams one may have had of living in the same New York City home that was once inhabited by Gisele Bündchen and Tom Brady are now officially null—the power couple sold their apartment for a reported $13.95 million in July, according to the Daily Mail.
Located in the Flatiron District of Manhattan, the lavish apartment fills up the 48th floor of One Madison, and was sold to Bündchen and Brady in 2013 for almost $14 million. It remains unclear how much the couple was able to grab from selling their apartment, but they did not exactly break even once the home was purchased by an undisclosed buyer. The initial asking price—$17.25 million—took a significant hit after the apartment remained on the market, unsold, for nearly two years.
A reported four bedrooms, three bathrooms, a library, a chef's kitchen (an essential room in the house considering the power couple's notoriously strict diet), interior designs by Peter Marino, and large floor-to-ceiling windows make up the 3,310-square-foot home that overlooks Manhattan's Madison Square Park. A view of the nearby Empire State Building, access to a private gym, swimming pool, and a residents-only clubhouse are just a few amenities of the luxurious home the couple finally sold this month. Being on the 48th floor, it might be difficult for the new owner to pretend like the apartment is flooding in an attempt to propose to any romantic partners, the way Brady once did for Bündchen.
In 2016, the supermodel and superstar quarterback placed their apartment at One Madison on the market and moved to a $20 million condo at 70 Vestry in TriBeCa—complete with five bedrooms—only to relocate to another more costly unit in the same building in April the following year.
Related: Gisele Bündchen Says Tom Brady Proposed to Her by Pretending Her Apartment Was Flooding