Gisele Bündchen Says Tom Brady Proposed to Her by Pretending Her Apartment Was Flooding
Well, that's one way to do it.
---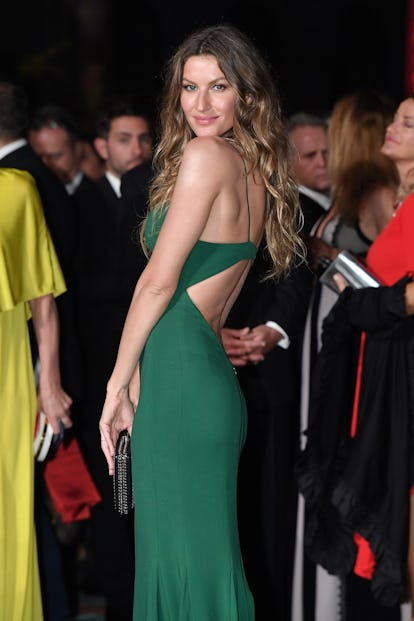 Photo courtesy of Getty Images.
Surprise proposals, like football games, tend to involve a fair amount of subterfuge, and Tom Brady's proposal to Gisele Bündchen was no different. The Brazilian supermodel recently sat down with Vogue to answer 73 Questions, one of which was, "What's the most romantic thing that Tom's ever done for you?"
"When he proposed to me, he made up this whole story [about] how my apartment was flooding," she answered in the video. "And I ran over there to try to fix the situation. When I got there, the whole apartment had candles and rose petals, and then he went down on his knees to propose."
"And I'm like, 'Get up,'" Bündchen continued, fake-yelling, "'cause he just had surgery and had three staph infections. I'm like 'What are you doing?!' He's like, 'I gotta go on my knees.' I'm like, 'No, no, no! Get up, please.' So, and here we are."
Nine years later, Bündchen has some marriage advice. "Keep it open and loving communication," she told Vogue. She also revealed some juicy secrets about Mr. Gisele Bündchen, who made a cameo in the video while practicing his golf swing in their backyard. Apparently, one thing most people don't know about the Uggs for Men spokesperson is that "He doesn't like being barefoot." Another interesting tidbit? Bündchen taught him how to recycle. (Meanwhile, she says, he taught her how to say no.) As for what emoji "best encapsulates who he is," the supermodel said, "the one with the sunglasses, like cool and collected, you know?"
Elsewhere in the interview, the two had a slight disagreement about where they were going on vacation (Bündchen said Costa Rica, while Brady said Montana) and were joined by their 5-year-old daughter, Vivian. While Vivian clung on to Bündchen's leg, the model said the best part about being a mom is "the love you receive and the love you feel." (The hardest part, she revealed, is "sleep deprivation.")
Vivian had some facts to share about the Bündchen-Brady household as well, saying that she takes after her mom's love of pizza and that their rescue dog, Fluffy, "likes juicy bones." Good to know!
Related: The Perks Of Eating A Plant Based Diet Like Gisele Bündchen and Tom Brady
Presenting 21 Moms Who Happen to Be Supermodels