A Comprehensive Guide to All of the Upcoming Celebrity-Hosted Talk Shows to Watch, From Reese Witherspoon to Busy Philipps
From Reese Witherspoon to Busy Philipps, celebrities are jumping at the opportunity to get into the talk show game.
---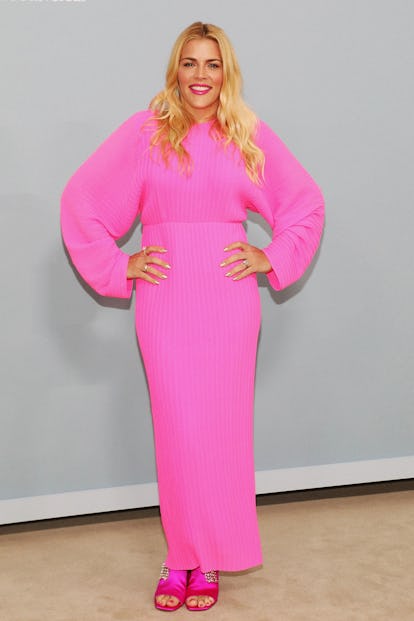 Photo courtesy of Getty Images.
The talk show circuit is going to get a lot bigger, as celebrities are beginning to jump at the opportunity to get into the hosting game. There's a serious dearth of female-hosted talk shows (save for TBS's Full Frontal with Samantha Bee or Netflix's The Break with Michelle Wolf) and even fewer hosted by black women (BET's The Rundown with Robin Thede is one of the few still on-air). But thanks to those pioneers of the landscape, as well as Jada Pinkett Smith's surprisingly well-received Facebook Watch series, Red Table Talk, the rise of the candid celebrity summer talk show is upon us, and a handful of the recently announced talk shows are hosted by women. From reality television gossip shows to those built out of more thoughtful interviews with special guests, there's going to be a little something for everyone by the end of this summer. Here, the celebrity talk show hosts you should be getting excited about.
Reese Witherspoon
It's no secret that Reese Witherspoon has one of the fullest plates in Hollywood. Between producing and starring in Big Little Lies, her upcoming book tour for her anticipated Whiskey in a Teacup memoir, producing multiple series for Apple, a third Legally Blonde film, and providing reading recommendations on Instagram left and right, Page Six reports that the mogul will be at the helm of her own unscripted series. Shine On with Reese will premiere July 17, on DIRECTV by way of Hello Sunshine, her video-on-demand channel, and will "pursue our mission of elevating and showcasing the voices of women that we have such admiration and respect for" by filming conversations with outstanding women such as Kacey Musgraves, P!nk, and America Ferrera. Who would have thought that Elle Woods would turn into the new Oprah?
Amanda de Cadenet
Amanda de Cadenet will take over the television talk show circuit on Showtime. The network ordered a pilot for what's being referred to as a "half-hour newsmagazine" in which de Cadenet will unpack "social, sexual, cultural and political issues through the feminist lens," according to an announcement from Variety. The host will ask some tough questions on-air, and also serve as executive producer behind the scenes for Now What With Amanda de Cadenet, which follows a string of interview talk show series, The Conversation with Amanda de Cadenet and Undone with @AmandadeCadenet, both of which aired on Lifetime.
Busy Philipps
Take an actress turned social media influencer and put her on the talk show circuit, and what you'll get is Busy Philipps on Busy Tonight, the upcoming E! talk show starring and executive produced by the Instagram Stories expert. The network has kept most of the information about the anticipated series under wraps, but if you follow Philipps on Instagram, you probably already know the types of segments to expect from her late night talk show—musings about the songs she hears on Sirius XM radio in her car, trampoline fitness anecdotes, and the occasional update from her two young daughters, Birdie and Cricket.
Jerry O'Connell
Jerry O'Connell will ascend from celebrity to Bravolebrity on his new talk show called Real Men Watch Bravo, which is exactly what it sounds like. He's a genuine Bravo superfan, and a Real Housewives-head in particular, so there's really no better choice to host a Bravo-centric talk show than O'Connell. Plus, he did a pretty good job at guest hosting for Wendy Williams in March, so this one should be entertaining.
Related: Oprah Has Signed a Multi-Year Deal With Apple TV, Because Having Her Own Channel Wasn't Enough