Gwendoline Christie Was Born to Wear Iris Van Herpen
The actress proved that once again with her latest red carpet appearance.
---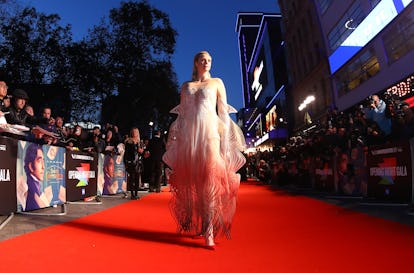 Tim P. Whitby/Getty Images
Two weeks ago, Gwendoline Christie stepped onto the red carpet at the Emmys wearing a magnificent red-and-white, robe-like Gucci gown that made her look like Jesus incarnate. It was the awards show equivalent of the second coming — complete with a Timothée Chalamet-style Louis Vuitton suit worn to the evening's after-party as the cherry on top.
Glorious as those looks were, they didn't change the fact that no one will ever dress Christie better than Iris van Herpen—and, of course, no one will ever look better wearing van Herpen than Christie. The actress and and occasional model—she walked the runway at both Miu Miu and Tomo Koizumi this past year—reminded the world of this fact on Thursday night, when she stepped onto the red carpet at the London Film Festival's screening of her new film, The Personal History of David Copperfield. This time, she wore a haute couture van Herpen gown with an illusion panel that made it seem as if the dress's gradient of lines that stretched down to her bright red heels was simply part of her skin.
The last time that Christie wore van Herpen's couture was in April, at the Season 8 premiere of Game of Thrones in New York City. The rest of the cast looked just fine—great, even—but once again, Christie stood out; she could have been mistaken for Botticelli's Venus rising from the sea, or a phoenix rising from ashes, particularly when she spread her "wings."
Van Herpen, by the way, is fully aware that Christie was born to be her muse. In 2015, she enlisted Christie to act as the literal centerpiece of her spring/summer 2016 runway show. The actress reclined on a stone dais in the middle of the runway, lying perfectly still for the length of the show, as Van Herpen 3D-printed her a custom dress.
Related: Was That Jesus or Gwendoline Christie at the 2019 Emmys?