Never Mess With Hannibal Buress' Marijuana Products
The comedian talks letting loose in weed dispensaries, his podcast, and his upcoming comedy tour.
---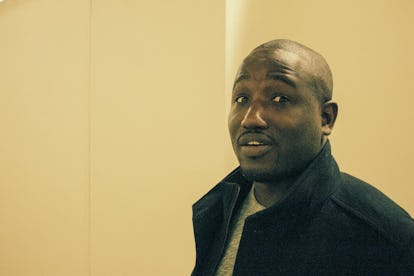 Photo by Kellen Nordstrom
Hannibal Buress is about to go on a nationwide stand-up tour—something completely normal for a comedian, except for the fact that he's under a lot of pressure this time. See, some of his past routines finally broke the story about Bill Cosby's decades-long history of alleged sexual abuse. Buress, however, is completely unfazed by the idea of mounted attention: "That was like four years ago!" he said earlier this week, at home in Chicago, where, while waiting to film the next season of Broad City, he's been working on his podcast, The Handsome Rambler, with guests like Mitski, Vic Mensa, and Run the Jewels. Before hitting the road, he talked to W about quitting drinking, going wild in weed dispensaries, and his appreciation for the Rock in his culture diet, here.
What's coming up in your routines this time around?
I stopped drinking this year, so I talk about the challenge of that and how it's kind of changed my whole vibe and energy levels. It's very interesting for me—being a comic for years and being in comedy clubs, there are always free drinks, and it's kind of a normalized part of the late-night lifestyle. If you don't catch yourself, it's easy to get into double-digit drinks most nights, just because it's flowing. It's been fun, but it's definitely different—I went to a strip club in Atlanta the other night, and it was pretty tough. I got a bunch of ones to tip the girls, but throwing money under any circumstances feels like a drunk thing to do. You have to kind of build that muscle. [Laughs] But you gotta tip! It's still weird—just being in a strip club is weird, but I enjoy it anyway, the music and environment. But everyone in there is really performative—just copying what we see in a rap video, trying to look cool throwing the money or trying to look like they're in some Nelly video.
Has it been hard doing shows without drinking?
No, I've been doing shows all year, and I've been to bars and concerts, so it's now more of a thing where I just find other stuff to do with my time, like watch a movie. The energy has also made me more focused, so I come up with more ideas and just try to chase the rush in different ways. Because any time with a vice or an addiction, if you give it up, something else is going to pop up. For me, one thing has been sugar, because alcohol converts to sugar in your body, so if you're not drinking after you were drinking heavily, your body starts craving sugar. So sometimes I'll just crush eight Reese's Peanut Butter Cups in one sitting. And then sometimes I just focus more on my work, going for projects that will give me some energy and risk, just so I have something else to do. [Laughs]
You've said that people often ask you to smoke after you do your shows, which really bothers you. Does that still happen?
Well, it's not that strange for people to ask. Some performers would smoke with their fans, but I can't because I don't know what type of weed they have, and I need specific strains. [Laughs] I like indicas. I like edibles in capsule or mint forms, because you know exactly what you get—you know that it's five milligrams, you know how it'll make you feel. If I smoke other strains, I open myself up to smoking certain amounts of weed that makes me have to go home immediately.
Getting into the culture questions, what's the first thing you read in the morning?
Unfortunately, it's missed text messages. [Laughs] There were a few this morning—one from my property manager. I have an apartment building with three units that I rent out on Airbnb because I travel so much, and I'll stay in any of the vacant ones if I'm in town. So recently I went to California, and I bought a bunch of legal marijuana products—and for the most part, whenever I go to a dispensary, I act like I've never been to one before. I just get excited about legal weed, and I usually buy about $200 worth of s—. I put it all on a table in my place last week, and I woke up one morning and was running late to catch a flight, so I just had to pack a little bag and head out. I told the property manager to tell the cleaning lady to just put anything I left in the place in a bag in a closet in a hall on the third floor. So just yesterday, I found all my clothes and stuff that I'd left, but I asked him where my marijuana products were, and he didn't know. And then this morning, he texted me that the cleaning lady said—and I quote—"I threw it all away. It freaked me out. In the moment, I didn't know what to do." She just threw away a bunch of s—, like it was heroin or something! What the f—! Why not call? Like, what is that?
I'm sorry for your loss. [Laughs] As for things that are still around, what books are on your bedside table right now?
Lance Bangs, who directed my last Netflix special and is now directing my friends' new Comedy Central show the New Negroes, gave me this book called Homey Don't Play That!, which is the story of In Living Color, Keenen Ivory Wayans's sketch show that was on Fox. It's real interesting—there's a lot about black comedy in the 1980s and '90s and Wayans' career. Then I've been reading Gary Vaynerchuk, who's a businessman motivator. He's really good at social media and business strategy, so I read his book, and it kind of gets me hype to get my s— together, because I've got a lot of things going on, and I've been trying to figure out how to get my personal machine moving.
Speaking of social media, what are your favorite accounts to follow?
There are a bunch on Instagram—let me scroll through my feed. You know what, though? I don't like that they don't do it in real time now, because it's like, right now, there's a post from two days ago. I don't know what the idea is behind it—Zuckerberg? But I follow a lot of music accounts and sports highlights, and weird—well, not weird—but I like motivational quotes. [Laughs] Like @successdiaries. I follow Lupita Nyong'o. I follow 50 Cent—he's pretty aggressive. He's good at promotion, though—no matter what the post is about, he always promotes his show Power.
And then there's Donterio HunDon—he's funny. He just roasts people, but he does it in a straight-faced, fast-paced way where he'll say a bunch of jokes. It's a very Chicago style of roasting—I follow a lot of people like that. And then, on Twitter—Twitter has kind of shifted. [Laughs] I look at it, but now out of obligation and habit versus really wanting to. I have days where I delete them from my phone just to get more work done and get my head clearer. But immediately after deleting it, like 40 seconds later, I'll have my phone in my hand and my thumb will be searching for icons, just like muscle memory.
What TV shows have been keeping you up at night?
Atlanta is great. The new season has a good tone, it's well done. It has a lot of unexpected, just really funny moments out of nowhere—jokes you don't see coming at all, like that reveal shot of his hair in the episode with the job interview.
What's the last movie you saw in theaters?
Black Panther. Have you heard of it? [Laughs]
[Laughs] What podcasts have you been into lately?
The 85 South Show, with Karlous Miller, DC Young Fly, and Clayton English, with different guests. That show's fun, because they do all these freestyles midconversation—they'll just start rapping about whatever they were talking about. I watch clips of Joe Rogan online—his podcast is like, two-and-a-half, three hours long, which good if you're a truck driver. But I don't listen to all of it—I just watch clips of it on YouTube. I find that I like videos of the podcasts more than I like just listening. I like the Two Dope Queens format.
Who's your dream guest on your podcast?
We were supposed to have T-Pain on, because we have auto-tune and we goof around and make songs. He'd be great because he has lots of stories, and he's a good rapper and sings. But if we got the Rock doing the podcast, that would be great, because he gives his all to everything. [Laughs] He'd approached it with gusto.
What's the last song you had on repeat?
"Euphorium" on Phonte's latest album, No News Is Good News, which is great. I think he's a couple of years older than me—I'm 35—and he's dope because he raps from an everyman perspective, so he's relatable. Well, I relate to him, but I'll never be that good at rapping. He talks about different issues of being in your mid-30s and getting healthier and family stuff and work issues.
What's the last concert you went to?
I saw Young Jeezy in Atlanta—or just Jeezy, he's not Young Jeezy anymore. It's always fun to see a big artist in their hometown, but also he has his signature ad libs between certain lines, like "yeahhhhhh," and then to hear the crowd of 3,000 to 4,000 people doing it, too? That sounded pretty good.
What brought you to Atlanta?
I was re-shooting [the upcoming movie with Rashida Jones and Jon Hamm] Tag.
Was it fun on set?
No—shooting movies is boring. You always hear all these crazy stories about pranks and shit on set, and I'm like, What set is that? Because it's mostly me in my trailer waiting to shoot. We have fun and we shoot. Most of my scenes were with Jake Johnson, Ed Helms, and Jon Hamm, who's a very funny dude—I was writing at SNL when he hosted the first time. But it's just not this crazy, lively experience, and I don't know who started that myth, because I ain't seen that shit yet. It's fake. And I'm already dreading that question on the red carpet—set is boring! [Laughs] It's a slow, boring process, with a lot of downtime.
Last thing: What's the last thing you do before you go to bed?
Take my pants off? [Laughs] I mean, it depends on what happened before I went to bed, right? Take the condom off? But I don't know, sometimes I fall asleep with the condom on. Like, why not? But it varies—it's not a super methodical situation. Let's not get too deep into that.
Related: Talking to High Maintenance's Ben Sinclair Feels Like a Delivery From the Guy, In the Best Way