Lisa Bonet Says She Sensed a "Sinister" Energy From Bill Cosby
Denise Huxtable speaks out.
---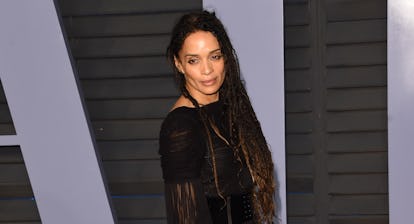 Photo by J. Merritt/Getty Images
Lisa Bonet, the actress, singer, and artist who played strong-willed Denise Huxtable for seven years on The Cosby Show, is speaking out about what she remembers from her time working with now-disgraced comedian Bill Cosby, who is accused of drugging and raping dozens of women.
"There was no knowledge on my part about [Cosby's] specific actions, but… There was just energy. And that type of sinister, shadow energy cannot be concealed," Bonet told Net-A-Porter, adding that there was "always" a darkness around him. By all accounts, Cosby didn't misbehave on the set of his hit sitcom, and many of its stars have had trouble reconciling their memory of the man with what we now know about him.
Though Bonet did sense that Cosby wasn't the person he presented himself as, she says, she doesn't have a scandalous story to tell. "If I had anything more to reveal then it would have happened a long time ago. That's my nature. The truth will set you free," she says.
She takes a similarly Zen view of their past disagreements, which were over her actions, not his. Cosby was against Bonet's posing topless in magazines and taking a racy role in Angel Heart opposite Mickey Rourke. Of those clashes, Bonet now says, "I don't need to say, 'I told you so'… I just leave all that to karma and justice and what will be."
Now happily married to Aquaman star Jason Momoa and living a life of bucolic idyll in SoCal, Bonet is focused on new projects, her family, and charity work. Cosby, meanwhile, is awaiting a retrial after the jury in his case failed to reach a verdict in June, according to Newsweek. Though Cosby has repeatedly denied allegations of wrongdoing, his case helped pave the way for allegations against Harvey Weinstein and so many powerful figures since, and he has virtually no defenders left in the public realm. Justice, indeed.
Related: Laura Dern, Shailene Woodley, and Zoë Kravitz Will Return in Big Little Lies Season 2
Emma Stone, Meryl Streep, Octavia Spencer, and More of Hollywood's Biggest Stars Demand Equal Pay