Jason Momoa and Lisa Bonet Were Reportedly Not Officially Married Until Last Month
They were previously believed to have tied the knot a decade ago.
---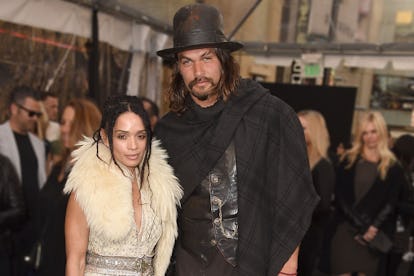 Composite. Steve Granitz/Getty Images
If two people look married, act married, call each other husband and wife, and even wear rings on their left hands…they're not necessarily married. At least in the eyes of the law. Case in point: Jason Momoa and Lisa Bonet were believed to have tied the knot almost 10 years ago, but, in fact, they reportedly didn't make it official until just last month.
According to Us Weekly, multiple sources confirm that the longtime couple exchanged vows in an intimate ceremony at their home in mid-October, about a week after obtaining a marriage license from the Los Angeles County Registrar-Recorder/County Clerk's office on October 2. "Jason Momoa and Lisa Bonet had an official wedding a few weeks ago at their house in Topanga, California," one source said. "Apparently they weren't officially married until then! They said they 'made it official.'"
Bonet's daughter Zoë Kravitz, newly married Alicia Vikander and Michael Fassbender, famous rock climber Chris Sharma, and many more of the two actors's former costars were reportedly in attendance at the ceremony. "[Momoa] stays close with the people he works with on movies and is a really nice guy," a source told Us Weekly. "It was a big party and people came from out of town to attend."
Momoa, 38, and Bonet, 49, first met in 2005, and were believed to have gotten married in November 2007, shortly after Bonet gave birth to their first daughter, Lola. (They're also parents to 8-year-old daughter Nakoa-Wolf.) In the years following, they've both been spotted wearing rings on their left ring fingers, and, in a 2013 interview, the Game of Thrones star referred to Bonet as his "wife" multiple times. "My wife, being a very pretty woman. She's beautiful and I love her," he said. "My wife's Lisa Bonet. I'm a very lucky man."
Momoa spoke further about his relationship with the Cosby Show star in a 2014 interview with The Huffington Post. "She's so amazing because I'm such a dipsht," he said of his "dream woman" and Road to Paloma* costar. "She's an angel. She's amazing. God bless her. She's seeing this one through."
It also comes amidst a time when so many other Game of Thrones cast members are preparing to tie the knot. Kit Harrington and Rose Leslie recently got engaged, and Harrington joked that production on the show's last season might have to come to halt so the entire cast and crew can attend. Sophie Turner is now also engaged to Joe Jonas.
Related: You Would Be Hard-Pressed to Find a More Stylish Mother-Daughter Duo Than Zoë Kravitz and Lisa Bonet
The Most Stunning Mother-Daughter Duos, from Madonna and Lourdes to Cindy and Kaia
Actress Reese Witherspoon and daughter Ava Elizabeth Phillippe looked like twins with their tousled blonde waves at the Home Again Los Angeles premiere.

Getty.
At the 2015 InStyle Awards mother and daughter Lisa Bonet and Zoë Kravitz looked radiant with dewy, luminous skin, dark eyeshadow, and long messy hair.

Getty.
Cindy Crawford and Kaia Gerber have been the most dynamic mother-daughter duo at Fashion Week, proving that good genes run the family,

Getty.
At the 2011 Vanity Fair Oscar Party, Madonna and daughter Lourdes Leon wore their hair in sleek, straight styles.

Getty.
Actress Melanie Griffith and daughter Dakota Johnson attended the 87th Annual Academy Awards wearing similar up dos with messy bangs.

Getty.
French actress Vanessa Paradis and daughter Lily-Rose Depp arrived at a Chanel fashion show during Paris Fashion Week with their hair in effortless waves.

Getty.
Andie MacDowell and daughter Rainey Qualley prove that loose curls and luminous skin go hand in hand on the red carpet.

Getty.
Actress Demi Moore and daughters Tallulah, Rumer and Scout Willis all pose in backstage in support of Rumer's broadway debut in Chicago.

Getty.
At the Chanel Collection des Metiers d'Art in Paris, actress Jada Pinkett Smith and daughter Willow Smith both wore a playful pink lip.

Getty.
Actresses Goldie Hawn and Kate Hudson pose together on the red carpet at the 2014 Baby2Baby Gala.

Getty.
Meryl Streep's three daughters, Mamie, Grace and Louisa Gummer, all take after their mother when it comes to red carpet beauty.

Getty.
Actresses Blythe Danner and Gwyneth Paltrow were the ultimate mother-daughter duo at the 25th annual EMA Awards, both sporting radiant, sun-kissed skin.

Getty.