Ilana Glazer and Phoebe Robinson of 2 Dope Queens Are Getting Into the Merch Game, With A Feminist Twist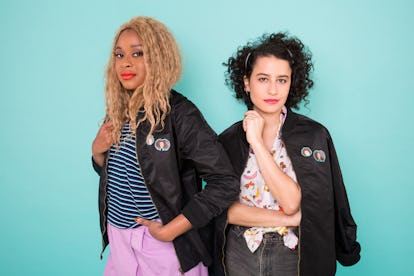 It seems like the official uniform of 2017 is merch. Whether you attend a Kanye West or Harry Styles concert, there's a requisite t-shirt or hat or bomber jacket that you just have to buy. And now Ilana Glazer and Pheobe Robinson are bringing this trend to the comedy scene. Glazer, who stars alongside Abbi Jacobson in Broad City, and Robinson, one half of the popular podcast 2 Dope Queens and author of You Can't Touch My Hair (And Other Things I Still Have to Explain) have launched a line of feminist-themed merch to coincide with the beginning of their YQY (Yaaas Queen Yaaas) tour, which starts on November 4 in Minnesota.
In partnership with Wildfang, the collection includes cartoon-like versions of Robinson and Glazer on t-shirts, notebooks, and tote bags as well as the phrase "Yaaas Queen Yaaas" on hats and bomber jackets. It's fitting that these should be the images displayed, as the catchphrase has become associated with both Broad City and 2 Dope Queens. "The phrase "Yas Queen" originates from queer people of color in the 1980s, drag ball culture, and dat vogue-ing tip," Glazer told W. "It's definitely trickled into the intersectional feminist movement today. We just want people to celebrate that." To wit: in an official release to celebrate the line, Glazer and Robinson noted that, "We think bad bitches and gay boys and hot butch girls and proud feminist and even straight dudes are gonna rock the sh-t out of this merch. It's a line for everybody."
Of designing the collection, Robinson said, "It really is cool to see a curly haired Jewish woman and a black woman be the face of a small collection. Neither of us would be considered typical because she's on the shorter side and I'm a size eight, so it's just fun to be adding another kind of look to the landscape."
The items are currently available on Wildfang's online store, so expect to see plenty of colorful attendees once the tour begins later this week.
Related: How Last Night's Broad City Episode Ended Up Going on a Fully Animated Mushroom Trip
Stranger Things Star Sadie Sink Explains the Biggest Trends of the '80s