What's With Fashion's Current Obsession With Pigs?
From Harry Styles's Gucci ad to pigs on the runway at New York Fashion Week, fashion has gone hog wild.
---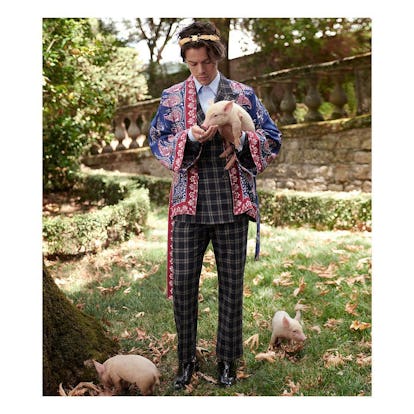 Photo by @gucci.
It all started with a pig on the runway. During New York Fashion Week this month, a teacup pig materialized in front of the Proenza Schouler SS19 show.
It turns out that the porcine in question is named Whistle, The Fashion Pig, and the animal is a brand ambassador for WhistlePig Rye Whiskey. But beyond pulling off a punny PR stunt, the creative minds behind the appearance of Whistle, The Fashion Pig during fashion week did sort of have their fingers on the pulse of a craze. It would appear that fashion has indeed gone hog wild lately.
On September 18, Harry Styles posed with piglets and baby lambs in Gucci's Cruise 2019 campaign photo series, embodying the vision of an angelic farm shepherd. Just look at the obvious love and care of Harry Styles cradling a baby pig while wearing Gucci's late-Renaissance inspired threads. It's timeless.
Now, thanks to Styles, our very own modern day St. Francis of Assisi, Gucci has decided to go full throttle with the animal love fest. A year after banning the use of fur at Gucci, Alessandro Michele created his own version of Noah's Ark in a short film inspired by the biblical tale.
Still, Gucci's reinterpretation of Noah's Ark is not indicative of pop culture's first foray into the hog trend this year. Earlier this summer, there was also the surge of Peppa Pig content and merchandise. Peppa Pig, in case you did not already know, is the name of the anthropomorphic British children's cartoon character that spawned a bevy of bootleg hypebeast merch for brands like Off-White and Supreme in China, after the character was banned by the government. Pigs have also been a pet of choice for eccentric celebrities like Miley Cyrus, who not only adopted a pet pig named Bubba Sue into her "family" back in 2014, but later posed nude on the cover of Paper magazine while holding onto a large pig. Ariana Grande and Pete Davidson may have also adopted a "micro" therapy pig this month, or at least it appears that way from the singer's Instagram Stories, as part of her healing process after the death of her ex-boyfriend Mac Miller.
So, no, you are not crazy, and yes, you really have been seeing pigs all over the place. From bootleg hypebeast merch to haute couture campaign photo shoots, swine are having a moment. Historically anyway, pigs tend to symbolize wealth and abundance, so maybe the cultural obsession with pigs right now is an omen of good things to come.
Related: Harry Styles Co-Stars with Piglets in New Gucci Campaign