A Very Rare Helmut Lang Interview About Fashion, From the Front Row to Birkin Bags
The designer turned artist acquiesced to reflect on the industry on the occasion of revisiting his 2009 collaboration with Dakis Joannou's Deste.
---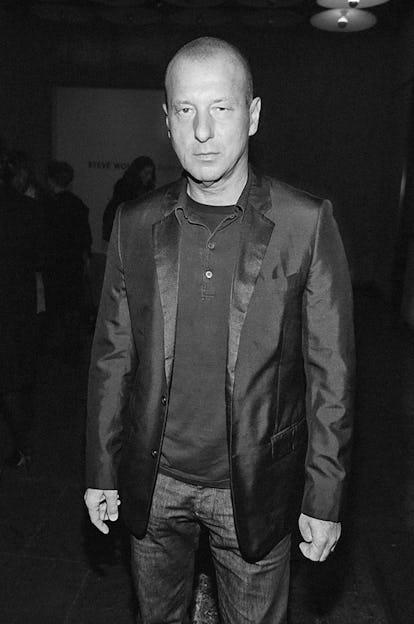 Steve Eichner
After practically revolutionizing the fashion industry with designs whose influence have lasted from the '90s to today, Helmut Lang abruptly exited fashion in 2005—and closed the door behind him so firmly, in fact, that he's not only made a point to avoid discussing fashion ever since, but also put the remains of his archives through an industrial shredder in 2011 for good measure. (He's maintained silence throughout the recent major makeover of his eponymous label, luxury freezer bags and all.)
Of course, Lang, now an artist represented by Sperone Westwater, would turn those archival shreds into raw material for his sculptures, which have been shown in Austria and New York. (His work has also been featured in the Dallas Contemporary museum and the Athens-based Deste Foundation for Contemporary Art, which was founded by Lang's friend, the art collector Dakis Joannou.) And now Lang is revisiting his 2009 contribution to the "Deste Fashion Collection," currently being exhibited as a retrospective at The Bass, which recently reopened in Miami.
Just like Juergen Teller and other notable Deste Fashion participants between 2007 and 2014, Lang was tasked with observing a year—in his case, September 2008 to September 2009—in fashion, and then boiling down his conclusions into an artistic commentary in the form of five items. Lang's period stood out not just because it was the first time he found himself "in a non-contributing position to the fashion system," occupying "the role of observer rather than participant," but also of because it happened to encompass the recession, which he then, of course, addressed head-on via items like a white, unmarked shopping bag, aka a "shamebag," to encompass the guilt felt by some of those who could still shop; a crocodile Hermès Birkin bag, as a true and "iconic" embodiment of an investment piece; a patent leather Alaïa belt, which Michelle Obama wore time and time again; and a vintage dress from Louise Bourgeois's personal wardrobe, which was full of pieces she'd reuse, as a reference to the then trend of hanging onto garments for a longer period of time than typical now.
At the same time, though, Lang also chose to comment on the front row for Deste Fashion, declaring it "one of the ultimate hierarchical elements of the fashion industry," a place of both achievement and power, an "amusing and dangerous game for the press office," and—"paradoxically"—as entertaining as the fashion show itself. Lang said all this at the time by putting a grouping of the folding chairs together as sculpture; of course, these days the chairs are actually benches, to squeeze in as many social media stars and influencers in as possible. (For the record, Lang says he has unfollowed all current front-row drama—though he does in fact have an Instagram these days.)
Though he was on deadline to finish another sculpture, Lang did acquiesce to an email interview (as is his custom), even agreeing to reflect on fashion—which, yes, he still does keep up with. Read on below.
What were your initial thoughts when Deste first approached you? Were you wary of returning to thinking so much about fashion? It was Dakis Joannou himself who approached me, and I have always been very fond of him. He could probably ask me for a lot and I would be interested because I trust him. The project he proposed was really about observing a year in fashion, which for me was actually quite effortless, and it had a rather artistic/social commentary approach than a fashion approach. But now that it is 2018, I am not thinking about these issues. The project ended for me when I handed the result and artwork over to the Deste Foundation and I am basically now looking at it as something I was working on at the time.
At the time, did you personally feel the guilt that came along with shopping that you described? I have not shopped [for] anything for myself in 30 years, so there is no shopping guilt at all on my end.
Do you have any investment pieces that have survived since 2009, or that have weathered a significant portion of your lifetime? I still wear everything I had in 2009.
Would you say experiencing and working through the recession has had a lasting impact on your work today? I left the fashion business in 2005, which was before the recession. That particular recession does not have an influence on my work, but I did grow up in modest circumstances, so I feel comfortable to work with the possibilities one has.
You cited the Birkin and, more generally, the house of Hermès, as the embodiment of investment pieces. Would you say the same is still true for versions of the bag that exist today, such as Paris Hilton's pink Swarovski-covered one that she had customized after the Bling Ring stole her Birkin collection? Let's stay with the classical idea of Hermès Birkin bag as investment.
Alaïa sadly passed away last year. Would you say his death marks the end of an era of, as you referred to him, true independent créateurs? It's evident that the fashion business changed quite a while ago, as have many other things. But change is actually what is also the driving force of fashion's response to the human and social conditions of the time. I don't like the idea of what one calls "the end of an era," as there will always be diversity. It is just a question of how the volume is shifting.
Michelle Obama, whose influence on American style you called "unprecedented," has been a notable fan of his designs. What do you think of the current first lady's style and influence? Dakis did not ask me to think about it.
Did Louise Bourgeois's practice of reusing her clothes, as well as the recession in general, at all influence your later decision to shred your archives? It did not, and it is not connected in that simple way. Louise just never threw anything away, although she could have. I just used it as an example of how in her time period, people would eventually wear things longer or treasure them more. It is similar to the Alaïa belt which Michelle Obama wore with different outfits, and not only once. I think it is a strange idea anyway that as a public person, you can only wear an outfit once. There is something wrong with that.
As for the front row, how often have you sat in it yourself? I never went to other fashion shows. My front row experience was a virtual one related to the Deste project.
Did you determine who sat in the front rows of your own shows in the past? Of course, I am familiar with the front row as it is a kind of a pecking order, and it was always shown to me by my press representation before every show for my final input. I tried to follow the advice of my PR representative mostly, as they knew best how the front row had to come together in terms of composition, and they also knew who liked each other and who liked each other less. We did always make sure that it was not only the obvious top-tier magazines who were represented but also a mix of up-and-coming and avant-garde ones, so it would be more interesting. Clearly, celebrities, artists, photographers, etcetera, were placed in the first row as well. So aside [from] having an intriguing mix of publications or editors, it was more about how you mix them together to make it as funky as possible. From the second row and on, it was much easier to achieve a really dynamic mix, and I always tried to have a curious mix of people from the industry and beyond.
At the time, you said that at its best, fashion can quickly reflect society. What would you say the art industry does when at its best? I am still trying to figure that out.
Have you found that your shift from the fashion industry to the art industry has influenced your personal life and state of mind? If so, how? Of course, every shift in one's life triggers a personal progression. I was always interested and fascinated with the human condition, which actually I think applies to both. It is just that the medium and the circumstances are different.
What have you found to be the most surprising similarity between both industries? I find that the art world has become pretty similar to the fashion industry in terms of speed, noise, and public exposure.
Installation view of "Helmut Lang" at Sperone Westwater. Courtesy of the gallery.
Installation view of "Helmut Lang" at Sperone Westwater. Courtesy of the gallery.
Installation view of "Helmut Lang" at Sperone Westwater. Courtesy of the gallery.
Installation view of "Helmut Lang" at Sperone Westwater. Courtesy of the gallery.
Installation view of "Helmut Lang" at Sperone Westwater. Courtesy of the gallery.
Installation view of "Helmut Lang" at Sperone Westwater. Courtesy of the gallery.
Looking at the Deste collections overall, is there a year in particular stands out to you, or that you were most intrigued to see an examination of? Modestly speaking, I think my year was pretty good.
If approached to do a survey of 2017 or 2018 for Deste, would you do so? Are you still following fashion these days, or would you have to do additional research to do so? If Dakis would ask, I assume I would do it. I do still loosely follow fashion, just as I also follow a lot of other creative disciplines, political and environmental issues, and so on. It is what I aways try to express when I say that I am interested in the human condition, which includes a lot of variables.
Related: An Exclusive Look Inside Helmut Lang 2.0, the Re-Invention of the 1990s' Most Influential Label