Downsizing Star Hong Chau's First Kiss Sounds A Lot More Scandalous Than It Actually Was
The breakout star of Downsizing breaks down her whirlwind year.
---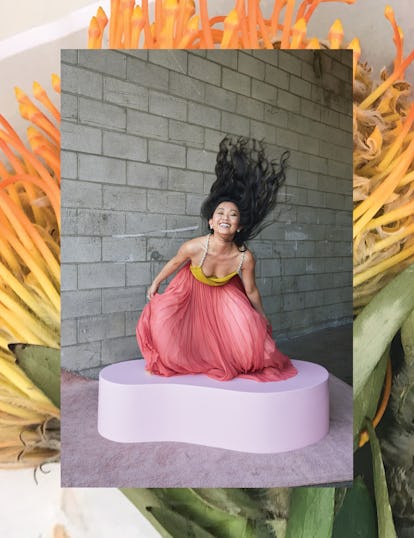 Photographs by Juergen Teller; Styled by Edward Enninful
At this Sunday's Screen Actors Guild Awards, industry veterans Holly Hunter, Laurie Metcalf, and Allison Janney, alongside music legend Mary J. Blige will vie for the Outstanding Performance by a Female Actor in a Supporting Role award. Also in the mix? Newcomer Hong Chau, who made a scene-stealing turn in Alexander Payne's Downsizing. It's a nomination that would certainly be a "pinch me" moment for any actress—but Chau's ultimate "I've made it" moment came in the form of a four-legged friend. "On Downsizing, I had a trailer, and I got to bring my dog to work, and I thought, "I've made it: I'm bringing my dog to work," Chau said. Here, the actress talks about her whirlwind year.
Have you always wanted to be an actress?
I did not. I wanted to be behind the camera. I thought I might do something with documentaries or be an editor; something a little bit more solitary than acting. I went to film school and was in some student films and that was kind of probably the first time I acted. I don't like being watched, and I don't like being told what to do, so acting is a very poor professional choice. But the first time that I felt comfortable saying out loud that I was an actor was about two years ago; I had done an off-Broadway play, and it was the hardest thing that I had done. It was written by Annie Baker and directed by Sam Gold, and it was called John. And I've always thought that I would be a fraud of an actor if I didn't do theater, so after that experience, I was like, "Yes, I'm an actor."
Is that how you got Downsizing?
Jim Taylor, our cowriter and executive producer, [saw the play]. He's ashamed of himself, because he wen, and he saw the play and he loved me, but he just didn't for some reason think of me for Downsizing. I actually just went in and did the good old-fashioned audition for Alexander [Payne].
How long was the audition process?
Not as bad as I've heard from other people. I went in and I read for John Jackson, his longtime casting director; he told me I wouldn't hear anything for about two months. This was right before Thanksgiving, and he said, "You'll hear something after the New Year," and I heard two days later that Alexander saw my tape and he wanted to meet me. We had coffee—well, actually, we had lentil soup—and he asked me to come back a month later to read for him.
What was it like seeing the film for the first time?
I generally don't like to watch myself, but this is the first role where I feel enough detachment from it, because she's so different from who I am in, in life, and she looks so different, she moves so differently. I enjoyed the whole movie, really, as, just a fan of the film, and as an audience member. I actually got to sit in on the editing process, so I saw different assemblies of the film all along the way, and that was really interesting to get to see the choices that Alexander made. What he chose to leave out is just as interesting as what he chose to leave in.
Where was your first kiss?
It was between my sophomore and junior year of high school. I went away for a summer in Georgetown, and it was in one of those cinderblock dorm rooms, on a crunchy plastic bed. My roommate had left the program, and so I had the room to myself.
Do you have any cinematic crushes?
I was just talking about Anna Magnani earlier since I had just seen Rome, Open City, recently, and I just love her face. I love it.
Do you have any secret skills?
This is a question that torments me. I don't have any special skills or any hidden talents. I don't.
What was your first red carpet outfit?
I remember what I wore at the Venice [Film Festival] really well, because it was so fancy, and it was heavy. It was a black, very heavily-beaded Elie Saab gown that was so beautiful.
What was your first "I've made it" moment?
On Downsizing, I had a trailer, and I got to bring my dog to work, and I thought, "I've made it: I'm bringing my dog to work."
Related: Like You, Margot Robbie Also Went Through An "Emo Phase" As a Teenager
Jessica Chastain Was Inspired By The Kardashians While Shooting "Molly's Game"