Like You, Margot Robbie Also Went Through An "Emo Phase" As a Teenager
The I, Tonya actress on stepping into the producer role, her first job, and getting nervous meeting Angelina Jolie.
---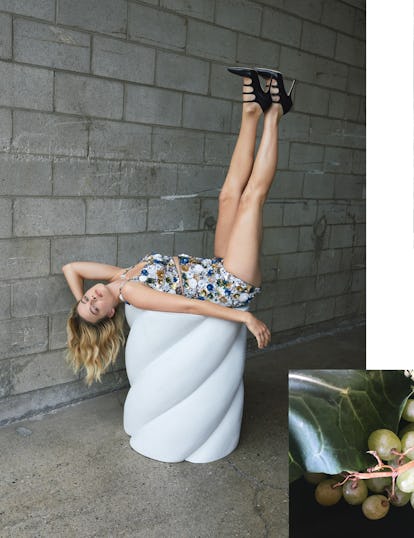 Photographs by Juergen Teller; Styled by Edward Enninful
Over the past few years, it seems the Margot Robbie has been just about everywhere since breaking out opposite Leonardo DiCaprio in The Wolf of Wall Street. But it wasn't so long ago that the now 27-year-old Australian actress was back home on the Gold Coast, jamming out to Blink-182 in her bedroom, filled with that oh-so-familiar teenage angst. " I had a couple of years where I had black hair and I only cut it with a razor blade, and I'd only wear, like, things with skulls on it or my band t-shirts," Robbie said. "I went through the emo phase." Most recently, however, the actress has traded in her Hot Topic garb for a leotard, thanks to her starring role as Tonya Harding in I, Tonya, which she also produced. Here, Robbie talks about stepping into the producer role, life back in Australia, and why she got really, really nervous meeting Angelina Jolie.
How did your production role with I, Tonya come about?
Myself and my close friend started a production company back in 2013 and really started getting it up and running in 2014. We were on set producing at the beginning of 2016. It must have been in the beginning of last year when we shot our first film that we were producing. And then I, Tonya was the beginning of this year, and now we're we're shooting our third film right now; it's called Dreamland. I hadn't always thought about producing; I knew that eventually I'd want to delve into other departments or other areas of filmmaking, writing or directing, perhaps. I didn't think I ever wanted to be a producer because I didn't really understand what a producer fully does, and now that I'm doing it, I realize that you do get to delve into the business side of things, which I really enjoy. I do enjoy going over budgets and things like that. But also there's a ton of creative development. I mean, you really develop a script from an idea or an article or a book adaptation or whatever it is. There's two years of development and a lot of work you get to do on the creative side. I'm interested in all aspects of filmmaking, and producing means I get to be involved in all aspects of it. So I love it. I just never fully understand exactly how much a producer does.
Were you tougher on yourself as an actress when you were also a producer on set?
I'm always most critical of myself, for sure. And I'm a perfectionist. But it is great. Everyone I work with is very like-minded, and we don't leave any stones left unturned. We really explore every single option before making any decision. And I like working that way, so it's great that my producing partners also do.
Now some fun questions. What was your favorite New Year's Eve?
Oh, I've had some good ones. A few years back, I made all of us do a big murder mystery night, and we all went out to my friend's house in Sussex, and we all dressed up. It was like 20 of us doing this giant murder mystery night. I was the inspector. So all the girls were dolled up, but I had a mustache. I made everyone do accents, and everyone really jumped into creating a character. None of them are actors, and a lot of them really delved into their character and did the most flawless accents ever. I was like, "It took me years to do an American accent, and you're English and doing a perfect Southern American accent."
What is the best advice your mom ever gave you?
I can't think of anything specifically. She's the kind of woman that leads by example. She's never sat me down and said, "This is how you do life." But watching her do it with such grace and understanding makes me want to be a better person, because she's like a saint.
Did she encourage you to be an actress?
No. My family has absolutely no connection to the entertainment industry whatsoever, so no one ever really realized that it was a career path. So when I started acting, everyone was like, "That's fun, but when are you going to like actually get a real job and properly work?" And that went on for years. I mean, I was on a TV show in America, and they're still like, "Are you going to go to university and get a degree and join the real world?" I was like, "This isn't a hobby. I can, like, support myself on this, I hope, I think, maybe." Now other people in my family want to get into the industry, too. One of my brothers became a certified stuntman. He was just working on Aquaman, which was shooting on the Gold Coast where my family is from. And then my younger brother wants to be an actor now, too. He's working his way up slowly but surely. My sister, on the other hand, is an accountant, and she thinks I'm an idiot for wanting to be an actress. She's like, "Ugh, that looks horrible. Why do you do that?"
What was your first job?
I worked at a restaurant that my mom's boyfriend owned. I was back in the kitchen, and then I slowly worked my way up behind the bar, waitressing, all that kind of stuff. I was like 13-years-old. I was way too young to be working behind the bar, though, so people would sometimes be like, "Are you old enough to serve me a drink?" I'm like, "Do you want the drink or not?" And they're like, "Okay."
What was your first date?
My first, like, real proper date was to go see a movie. I saw Hitch, which I told Will [Smith] that when we worked together. I was like, "Wow! That was, like, when I went on my first date." He's like, "God, you make me feel old. Don't say that."
What was your first album?
It was Blink 182. Then I really delved into like heavy metal, and I had a couple of years where I had black hair and I only cut it with a razor blade, and I'd only wear, like, things with skulls on it or my band t-shirts. I went through the emo phase.
What was your first red carpet outfit?
I think it must've been to one of the Australian version of the Emmys, the Logies, which is the most fun ever. A bunch of Aussies in a room with free booze. A friend on the Gold Coast made [my outfit] for me. It was black and like this orangey-red color, and it was short at the front, so it was pretty much a mullet as a dress. I got slated for wearing it, but I loved it, so I didn't care. Plus, I was like 17. I was like, "I've got the rest of my life to wear serious, boring dresses."
What was your favorite movie growing up?
The Fifth Element. And Robin Hood: Men in Tights, which actually was probably really inappropriate because I was like six-years-old, and that was my favorite film. It's got a lot of adult jokes and there's a lot of innuendo. I got in trouble because in class you had to write down like, "Oh, if you were making a potion, what would you put in it?" So I just wrote down everything in Robin Hood: Men in Tights when the witch character makes the potion. One of the things is "testicles of a newt," and I got called up to the front of the class and asked why I put testicles in my potion. I had no idea what testicles were, because I was like six or seven. The teacher was like, "Why did you write this?" and I was like, "That's just what I want to put in my potion." I got in trouble.
Do you have any celebrity crushes?
I mean, I have the most massive girl-crush on Saoirse Ronan ever. We just worked together, and I love her to pieces. And I met Angelina Jolie for the first time the other night at an event, and it was like startling to be so close to [her.] She was like stunning. And not just aesthetically; she just has such a presence. I got really hot and sweaty and stumbled my words, and it was a terrible introduction. I really just wanted to tell her that she's an inspiration and stuff like that. But I think I just ended up breathing on her and looking weird. Lots of crushes at the moment, I guess. Lots of woman crushes.
Related: Margot Robbie Has Some Advice for What To Do When You Need to Pee While Figure Skating
Margot Robbie Is Here to Show You What Vegemite Sounds Like