Exclusive: Charli XCX Shares Her Ultimate New Year's Eve Party Playlist
The 'Boys' singer has curated the ultimate party playlist.
---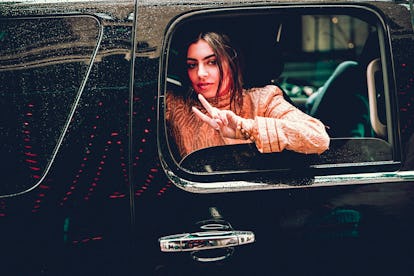 2017 has arguably been the year of Charli XCX. Over the past twelve months, the singer has toured the world, directed an Internet-beloved music video starring the Internet's most beloved boys, and with just days before the year comes to a close, released a surprise album, Pop 2, featuring nonstop collaborations from the likes of Tove Lo, Carly Rae Jepsen, and MØ. Suffice to say, 2018 likely only has more in store for the British singer. To help usher in the new year, Charli XCX created a playlist exclusively for W to make for the ultimate New Year's Eve party. For all of her favorite tunes, read on.
How long have you been working on Pop 2? What was the process like making this album?
Making the mixtape was hectic and crazy. It all came together very quickly, mainly between AG Cook and myself. I love to work frantically and secretly. I like keeping people on their toes.
What was it like collaborating with all the incredible musicians on the album?
A total dream. There's a lot of people I've worked with before on there, a lot of old friends and a couple of new friends too. Collaboration is such a huge part of my process and who I am. I like making my records like we're all part of one big gang.
Why did you decide to drop the album as a bit of a surprise? Have you been following the very excited reactions?
The mixtape came out spontaneously because I just felt like I wanted to put something out before the end of the year, for my fans but also for myself. I'm in the studio writing quite a lot, so the classic major label format of two or three singles into an album doesn't really work for me. I find it uninspiring and too long of a process. That's why these mixtapes started to happen. It was a way for me to satisfy my creativity and my fans without putting loads of pressure on my label to take something to radio or to have "a hit", which as I grow up I'm caring less and less about. So yeah, a combination of all of that I guess
What were some of your favorite albums or songs this year?
Favourite albums include Cashmere Cat's 9, Stranger by Yung Lean, and Mø's EP When I Was Young. I also love "Damn" by Kendrick Lamar and Tove Lo's song "Disco Tits."
What artists are on your radar for 2018?
Definitely Billie Eilish and Rich Chigga. I'm also excited for Sophie's project.
What are your plans for New Years Eve?
I'm performing in Bali and then just partying with some of my best friends. I can't wait to lay on a beach with a hangover.
What is the best New Year's Eve you ever had?
All the New Years where there's been a house party. Those are the best. I hate trying to go out for New Years. Everyone's usually an asshole.
What is the worst New Year's Eve you ever had?
Probably one in Dubai where my bassist fell off a table five minutes after midnight and pierced a hole in her cheek and was literally gushing blood from her face. We had to rush her to hospital. It was stressful.
Your ultimate New Year's Eve playlist:
Britney Spears, "Piece Of Me" This song is from my favorite Britney album, Blackout. I remember when I went to see her in Vegas it was completely next level and I nearly had a heart attack.
Terror Squad, "Lean Back" A party classic that I'm sure will get your New Years party popping off.
The Cure, "Boys Don't Cry" 'Cause someone's probably gonna make a boy cry at midnight.
Justice, "Genesis" Possibly the perfect song to start 2018 with .
__Eminem, "Without Me"__ This is my karaoke song. I get wild and weird all at once.
Prince, "Kiss" Another fave karaoke song of mine and probably perfect for making out on NYE
Sinead O'Connor, "Nothing Compares 2 U" One for the end of the night when you wanna do some more crying/making out.
Eve ft. Gwen Stefani, "Let Me Blow Ya Mind" Another classic and one of my favs. This video is so amazing and is making me wanna go back to my bikini in the club phase (where I would literally just go to clubs in bikinis; not even in a hot place, in like London.)
Kendrick Lamar ft Rihanna, "Loyalty" 'Cause on New Year's Eve you'll probably be with your best friends and they're your ride or dies.
Related: What Your Favorite Boy in Charli XCX's "Boys" Video Says About You