New House of Cards Season Six Teaser Shows Claire Underwood Taking Over the Oval Office
"We're just getting started."
---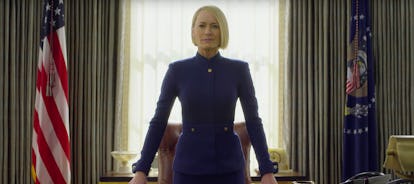 Netflix/Youtube
Ever since the very first season of House of Cards hit binge-watchers' pupils in 2013, it's been increasingly obvious that Robin Wright's Claire Underwood is meant for so much more than just playing second fiddle to her husband, Kevin Spacey's Frank Underwood. Now, in the sixth and final season, due to a cliffhanging fifth season finale, as well as Netflix's announcement that accused sexual abuser Spacey would not appear in the final season, and, of course, Claire's own bloodthirsty ambition, the former First Lady and vice president is finally ready to take her rightful place as president of the (fictional) United States.
The first teaser trailer for the sixth season, released by Netflix during Sunday night's 2018 Oscars, confirms as much. Much of the 45-second clip follows young staffers through a bustling West Wing before landing on Wright in the Oval Office, where she spins around in her chair, stands up, and, directly addressing the camera, says, "We're just getting started."
As House of Cards fans are well aware, breaking the fourth wall was a privilege that belonged solely to Frank until the very end of the fifth season, according to The Hollywood Reporter. At one point, with her husband's political future in major upheaval, Claire finally turned to the camera and confessed that although she had always known there was someone watching beyond the fourth wall, she distrusts whoever it is; a few episodes later, after (spoiler alert!) she takes over for Frank as POTUS in the season finale, she turned to the camera to say, "My turn."
It's unclear how Frank, the central character of the show for five seasons, will be completely written out of House of Cards to cover up for Spacey's absence, but a Claire-centric season will surely be welcomed with open arms by fans who have watched Wright's quietly powerful character wait impatiently for her turn in the Oval Office. After more than two dozen men—at least eight of whom were employees on the House of Cards set—came forward to accuse Spacey of sexual harassment and assault, Netflix announced in December that he would be completely absent from the sixth season, which will hit the streaming platform later this year and had already started filming at the time, according to CNN.