Iman Explains Why She Refuses to Let Daughter Lexi Jones Model
Agencies have been calling her nonstop about Lexi Jones, 18-year-old daughter of David Bowie.
---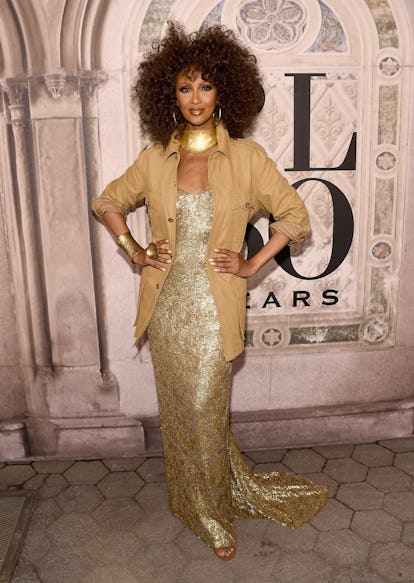 Getty Images
Iman, the supermodel and widow of David Bowie, isn't eager to push her daughter with the late star, Lexi Jones, into the spotlight. She told Porter magazine that despite her own success in the industry, Lexi is on a different path. The teenager is a talented painter on a gap year from college (apparently against Iman's wishes) and, despite her thousands of Instagram followers, relatively unknown. Unlike other model or rock star spawn (Frances Bean Cobain and Kaia Gerber come to mind), Lexi could probably walk down the street without being stopped, and that's something Iman wants her to treasure.
"She says I am overprotective," Iman reflected in the interview, adding, "But I told her, this can all wait, it isn't going anywhere. Have a life that is private while you can, because one day soon it is going to be public, so enjoy this." Moreover, Iman is keenly aware of how the same forces that could make her daughter famous could also be used against her. After she posted pictures of her daughter to Instagram, Iman says, "every agency, every designer, called me to say: 'If she wants to, we'd love for her to model for us.' I said: 'No, she doesn't.' I know why they wanted to her to model. It's because she is David Bowie's daughter."
Iman knows better than most the highs, lows, and political calculations of the modeling industry. During her rise, she was often pitted against other black models because casting directors would only allow one per show. Instead, Iman fought for change; when makeup artists didn't have products in her shade, she mixed her own and eventually founded Iman Cosmetics. "Now, every brand has 40 shades of foundation, but Iman Cosmetics was one of the first that changed the way we think about makeup," she said. "That will be my legacy, and I am very happy to be remembered that way: refusing to compete with other black models."
Related: Iman Opens Up About Her Marriage to David Bowie: "I Will Never Remarry"
Betty, Loulou, Catherine, and Iman: Meet Yves Saint Laurent's Squad
One of the original blonde bombshells was undeniably Betty Catroux. Photo by Getty Images.

Getty Images
Marisa Bereson posed for the Spring 1972 Couture Collection. Lengthy lashes would be great for this fresh start. Photo by Getty Images.
Loulou de la Falaise made the world fall in love with the soft shag. We hope this trend stays strong. Photo by Getty Images.

Condé Nast/Getty Images
Catherine Deneuve's careful coif kept her hair down without being top of mind. More elegant takes on showing the face are our faves. Photo by Getty Images.
Raquel Welch's bold bronze made healthy, sexy. If Vaccarello's gals follow suit, we will too. Photo by Getty Images.
Bianca Jagger's current curls are just that, current. More polished, natural textures, please! Photo by Getty Images.
Iman's patent pucker gave us glam without trying too hard. Up next, this youthful joie. Photo by Getty Images.
Mounia's sleek slick showed that serving face (and a smile) was the look to envy. We'd like to see this sophisticated look come back. Photo by Getty Images.
Francoise Hardy's side swept fringe showed that not trimming your bangs could be cool. We're begging for bangs that don't hide the eyes, or skirt the hairline. Photo by Getty Images.
Laetitia Casta gave meaning to the term perfect pout. Rosy cheeks and lips and always a runway winner. Photo by Getty Images.