Melania Trump's Office Calls Ivana Trump "Attention-Seeking and Self-Serving"
While promoting her new memoir, Ivana Trump joked that she was first lady. Melania Trump did not find it funny at all.
---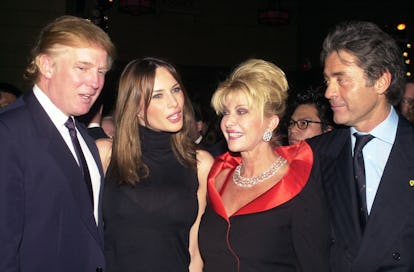 New York Daily News Archive
The Trump family continues to make the weirdest headlines in White House history.
In what is definitely a first, First Lady Melania Trump used her official White House staff to lambast a recent joke made by Donald Trump's first wife Ivana Trump — who also, obviously, is the mother of another White House employee, advisor Ivanka Trump. Talk about awkward.
Ivana, the Czech-born former fashion model who was married to the president from 1977 until their famously nasty divorce in 1992, is promoting her new memoir Raising Trump. (She is, after all, still a Trump, and wasn't going to skip an opportunity to cash in on her name.) In an interview with ABC News, Ivana claims that she basically raised her three children with Trump alone, and that while he was a caring father, he didn't interact much his children until they turned 18 and he could start talking business with them. She also claims she has a direct line to the White House, but doesn't call much, because, well, she doesn't want to make Melania jealous.
"I don't really want to call him there because Melania is there and I don't really want to cause any kind of jealousy or something like that because I'm basically first Trump wife, OK? I'm first lady, OK?" she told ABC, laughing.
The current Mrs. Trump and actual first lady didn't take it as a joke. Her communications director Stephanie Grisham released a sternly worded statement to CNN:
"Mrs. Trump has made the White House a home for Barron and the President. She loves living in Washington, DC, and is honored by her role as first lady of the United States. She plans to use her title and role to help children, not sell books. There is clearly no substance to this statement from an ex, this is unfortunately only attention-seeking and self-serving noise."
This may be one of the most pointed statements to come out of Mrs. Trump's East Wing about anything. It should be noted that previous reports indicate that Mrs. Trump and Grisham usually run their communications separately without input from the West Wing.
Whatever, the case, this is certainly a first in American history. Donald Trump is only the second divorced man to be elected to the presidency. The first was Ronald Reagan, but his first wife, the Oscar-winning actress Jane Wyman, never spoke publicly about her ex.
What's even more amazing is the fact that this is the first public drama between the first and third Mrs. Trumps (the second Mrs. Trump was Marla Maples, who had an affair with Mr. Trump while he was still married to Ivana). The pair had appeared to be on relatively good terms, as far as these things go. They've been photographed together before on more than one occasion, and Melania reportedly attended Ivana's 2008 wedding to Rossano Rubicondi, which was held at Trump's Palm Beach estate Mar-a-Lago.
Ivana has mostly (and, perhaps, understandably) held most of her public ire for Maples. Indeed, in the same interview she was asked about Maples. "Well, I don't want to talk about a showgirl," she replied.
Of course, there's really not much to say about the whole situation that wasn't already said by our country's grandmaster of wife-related drama Andy Cohen, which is, well, nothing:
Related: Here's How Melania Trump Actually Gets Her Clothes