An Ivanka Trump Store is Opening on Manhattan's Fifth Avenue
Not that anyone asked for it.
---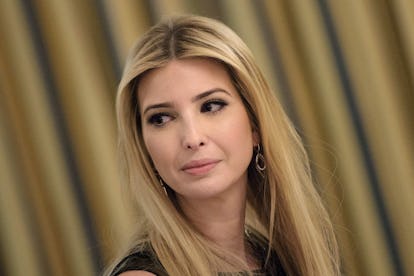 BRENDAN SMIALOWSKI
The Trump Organization is here to accommodate anyone on the Trump train with last minute shopping to do. An Ivanka Trump store is opening on Manhattan's pricy Fifth Avenue inside Trump Tower today in what is characterized as a "new era" for the eponymous contemporary fashion label. It will be the third time the brand has tried to have some sort of physical presence, and the first time in the domestic United States that highlights all of its offerings beyond the now shuttered Ivanka Trump Fine Jewelry brand. The opening will cap off a tumultuous and often controversial year that, at one point, indirectly led to Kellyanne Conway (sort of) committing an ethical lapse and getting reprimanded for promoting the brand on cable news as a federal employee.
It's also a move into its own brick and mortar space, something the brand has long struggled with. When Ivanka Trump herself was still running the brand, she opened a fine jewelry boutique in Manhattan's Upper East Side in 2007 before relocating it to SoHo in 2011; she quietly shuttered it in 2015. There was also a now-closed Ivanka store in China, and, briefly, there was a fine jewelry mini-boutique inside Trump Tower.
The new boutique is said to be small, but will feature a selection of items from a collection that, since the election, has been re-calibrated to offer more accessible price points. Trump launched the brand in 2007 with an emphasis on diamond and gold jewelry, but over the years also expanded into clothing, accessories and costume jewelry. Though, Trump herself stepped away from running the day-to-day operations of the brand upon her move to Washington D.C. to serve in her father's administration, she still retains a financial interest in the company through a trust. Abigail Klem now leads the brand, but obviously, the Trump Tower deal would have had to have gone through the larger Trump Organization, now overseen by Ivanka's brothers Donald Trump Jr and Eric Trump.
In the absence of its own boutiques, the brand relied on other stores to carry it, but the Trump name led to controversy earlier this year. Several stores, including Nordstrom's, decided to drop their Ivanka Trump offerings citing lagging sales. This triggered President Trump, as many things do, to angrily tweeting about Nordstrom's decision, and Conway controversially urging the president's base to go out and buy items from the brand. In March, the brand also shuttered the fine jewelry line on which it was founded.
Though, as a viral video of suburban mothers from earlier this year reminded us, there still are indeed people who want to buy a piece of the Ivanka image. "We want to shop where Ivanka shops, and we're pretty sure it's not here," said one of the women as the group traveled down the escalator of their local Nordstrom to try and cancel their Nordstrom cards. Afterwards, they promised to go to Dillard's.
Now they have another option in the Trump Tower boutique.