Jack Schlossberg Named His Dog After A President Who Isn't JFK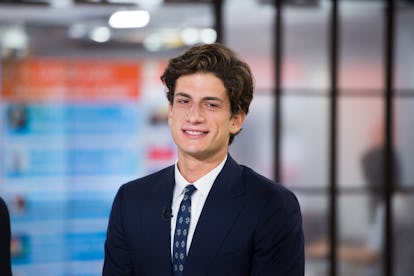 Nathan Congleton/NBC/NBCU Photo Bank via Getty Images
JFK's grandson Jack Schlossberg is truly ready to take his Tinder pics now that he has the perfect accessory: an adorable dog named Chester. "He looks exactly like [former president] Chester A. Arthur," Caroline Kennedy's son told People at the New Frontier Awards at Harvard Law School, where the 24-year-old is a student. This is fun and amusing, though not as fun and amusing as Jason Segel's character in I Love You Man naming his dog after Egyptian president Anwar Sadat because the dog looks like Anwar Sadat.
"He's a mix of two different types of dogs, but I don't remember the exact breed," Schlossberg explained. Perhaps this is a question he can Google and post the results to Instagram, something he likes to do on his highly entertaining page.
"Gonna name him Fuki or Nutroll or Rabbit or Maestro or Big Data or Richard or maybe Pickle or Angus. He's my brother," the outdoor enthusiast joked in July on a picture of himself and his canine bro. Chester was probably the right choice, although a dog named Big Data would be kind of perfect for our current cultural moment.
So: sports, American presidents, brotherly pups. What else does Schlossberg like? Cool dudes! "I am The Rock's greatest fan," he told People, "He's just like the funniest, best guy." Schlossberg gushes. No argument here. "And what I really love about him is that he is the hardest worker… I identify with that because I think hard work is very, very important, and so I just think he's the man." He also likes his hair twin, Canadian PM Justin Trudeau, and has posted about him on Insta on a humber of occasions. "He is an inspiring young leader and he just is very endearing," says Schlossberg. Last Spring, the Trudeau family took in Portuguese water dog Kenzie, so maybe the two men can set up a doggie play-date. And discuss important matters of state or whatever.
Related: Tatiana Schlossberg, JFK's Granddaughter, Married Her College Sweetheart George Maran in Martha's Vineyard
Jackie Kennedy Through the Years: A Look Back at the Original White House Style Icon
A smiling Jacqueline Bouvier arrives at St. Mary's Church in Newport, R.I., on the arm of her stepfather, Hugh D. Auchincloss, for her wedding, 1953. Photo courtesy of Getty Images.

Getty Images
Jackie Kennedy on a visit to India in 1962. Her signature pearls and gloves accessorize an apricot dress with bow accent. Photo courtesy of Getty Images.

Getty Images
Jackie looks windswept on a December afternoon in 1969 in a casual black turtleneck. Photo courtesy of Getty Images.

Getty Images
Jackie Onassis pictured receiving a gift from Prince Sihanouk of Cambodia and his wife during a trip to Cambodia in 1967. She dons a teal one-shoulder dress with decorative trim. Photo courtesy of Getty Images.

Getty Images
Jackie Kennedy on a trip to Canada in 1961. The First Lady matches an iconic pillbox hat to her red wool suit. Photo courtesy of Getty Images.

Getty Images
Jackie Onassis attends the Metropolitan Opera at Lincoln Center in 1967 wearing a white 3/4 sleeve gown cinched at the waist by a chunky belt with stone inlays. Photo courtesy of Getty Images.

Getty Images
Jacqueline Kennedy Onassis in a formal pants suit on East 75th Street, New York, 1960. Photo courtesy of Getty Images.

Getty Images
Jackie Onassis on the way to the Metropolitan Opera House House Royal Ballet in 1974. Her printed maxi dress exudes 70's glamour. Photo courtesy of Getty Images.

Getty Images
President and Mrs. Kennedy in West Palm Beach, Florida, 1961. Photo courtesy of Getty Images.

Getty Images
Ms. Onassis arriving at La Cote Basque in 1970. In a stunning red moment, Jackie looks playful in a beautiful ruffled dress that's belted at the waist. Photo courtesy of Getty Images.

Getty Images
Jacqueline Kennedy wearing a checked blue and white high cloche with a matching blue ribbon around the crown as she arrives with the President to greet the Pakastan President, Ayub Khan, Andrews Air Force Base, Maryland, July 11, 1961. Photo courtesy of Getty Images.

Getty Images
First Lady Jacqueline Kennedy walks a pace behind her husband in a monochromatic white outfit, a look that quickly became synonymous with Mrs. Kennedy during her Camelot days in 1962. Photo courtesy of Getty Images.

Getty Images
Jackie Kennedy exits a plane at Laguardia Airport Field in a knee-length leopard coat in 1962. Photo courtesy of Getty Images.

Getty Images
Jackie is pictured wearing her riding outfit at the 17th Annual Horse Show in 1970. Photo courtesy of Getty Images.

Getty Images
Jackie Onassis is photographed in 1970 at The Alvin Theater in New York wearing a black and white cocktail dress belted at the waist with geometric inserts. Photo courtesy of Getty Images.

Getty Images
Jackie is photographed at Heathrow Airport sporting a casual printed blouse and iconic oversized glasses in 1976. Photo courtesy of Getty Images.

Getty Images
Jackie Onassis pictured wearing a green cocktail dress to a dinner at La Cote Basque Restaurant in 1974. Photo courtesy of Getty Images.

Getty Images
Jackie wears a vibrant yellow gown to the Metropolitan Opera House in 1973. Photo courtesy of Getty Images.

Getty Images
Jackie wears a navy suit with a red bowtie while out with her children in 1971. Photo courtesy of Getty Images.

Getty Images
Jackie looks effortless exiting the cinema in a simple khaki skirt and tucked blouse during the summer of 1981. Photo courtesy of Getty Images.

Getty Images
First Lady Jackie Kennedy attends the unveiling ceremonies at the National Gallery of Art in a strapless lavender evening gown and satin elbow length gloves in January of 1963. Photo courtesy of Getty Images.

Getty Images
Jacqueline Kennedy Onassis wears a ballgown with a long sleeved sequin top to a gala at the New York Public Library in November of 1986. Photo courtesy of Getty Images.

Getty Images
Before she was a Kennedy, she was Jacqueline Bouvier. Here, the future Mrs. Kennedy is pictured in a floppy hat and shorts on holiday at the Kennedy compound in 1953. Photo courtesy of Getty Images.

Getty Images
In 1989, Jackie Onassis is sighted wearing a yellow sequin skirt paired with a crisp white blazer and pearls in New York. Photo courtesy of Getty Images.

Getty Images
Jackie Onassis attends her daughter Caroline's wedding wearing a long sleeved mint colored cocktail dress and gloves in 1986. Photo courtesy of Getty Images.

Getty Images