Jack Schlossberg, JFK's Grandson, Has an Instagram Account You Should Be Following
From shoutouts to the Rock an Justin Trudeau to the shirtless pics.
---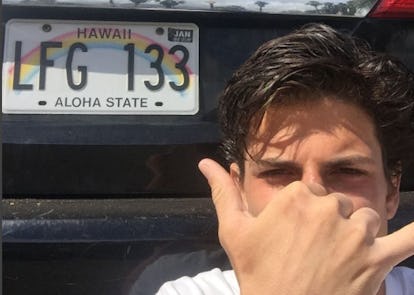 Jack Schlossberg
Jack Schlossberg, the only grandson of late President John F. Kennedy and Jacqueline Kennedy Onassis, might not yet be on your radar. Save for his paddle boarding around Manhattan, an appearance at the this year's Met Gala, and a Today interview, the 24-year-old son of Caroline Kennedy and Edwin Schlossberg, mostly keeps a low profile. But his Instagram is truly a goldmine waiting to be discovered. It's not preciously curated. It's not serious, as many profiles belonging to public figures — no less political offspring — tend to be. And it's completely unapologetic in Schlossberg's love of The Rock and Justin Trudeau. It will make you laugh, and it might inspire you to go on an outdoor adventure.
In Schlossberg's most recent post, he ponders whether Canadian prime minister Justin Trudeau is an alpha or beta male. "Need to watch him eat to know for sure," Schlossberg writes. "Not sure u have the authority to ask this question ?," one commenter responds, to which Schlossberg says, "ur not sure? Make up ur mind, dude. Take a stand."
In the post before that, Schlossberg calls Shawn Mendes "Voice of a generation!!!!" Is he serious? Is he sarcastic? Does it even matter? These are all valid questions to ask.
Come for the cultural commentary, stay for the shirtless pics, as Schlossberg frequently treats his followers to photos of himself in outdoors mode. "My art is my life and my life is my art," he captioned a photo of himself with his abs and sunscreen fully exposed next to a sign that reads "Seaweed art show."
Outside of his interests in paddle boarding and biking, Schlossberg also seems to be a fan of Elvis Presley, as he lip synced to the King's "A Little Less Conversation."
Schlossberg also happens to be the travel blogger you never knew you needed to follow. "No Greenland's the one with the ice on it!," he captioned a photo of his selfie in front of an iceberg for all of those who have a hard time distinguishing between the country and Iceland.
His obsession with The Rock is also informative, between his screenshots of the questions that plague him — Dwayne Johnson's weight for instance — and his aggregation of Rock-centric news. All of those pale in comparison to the video Schlossberg posted though of the Rock sending out a birthday shout out to him. "Hey what's going on? This message is for a guy by the name of Jack Schlossberg," says the Rock. "Number one: Thank you for being a fan. I appreciate it. Number two: Happy Birthday buddy. I hope you have a great birthday."
The only thing that Schlossberg loves more than the Rock is his family, who he frequently posts throwback pictures of. "Guys your love is my drug," he writes in one photo from his childhood.
Then there is also his new puppy, which Schlossberg posed with topless. "Gonna name him Fuki or Nutroll or Rabbit or Maestro or Big Data or Richard or maybe Pickle or Angus. He's my brother," he captioned the photo. If this doesn't sway you to hit the follow button on his page, nothing will.
Oh, right, and he's fluent in Japanese.
Related: Tatiana Schlossberg, JFK's Granddaughter, Married Her College Sweetheart George Maran in Martha's Vineyard
A Pictorial Guide To The Well-Connected Kennedy Family Tree: