Jaden Smith Is Back in His Batman Costume for His New Music Video
His latest song, "Batman," has Jaden in what is becoming his signature look.
---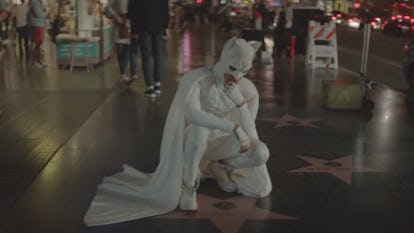 Nostalgic Jams/Youtube
Jaden Smith is a man of many guises. There's Jaden Smith, tweet master; Jaden Smith, K-pop star; and Jaden Smith, the man who carried his own hair the Met Gala. But the internet's favorite version of the young superstar? Jaden Smith, Batman.
In what you may remember as "the most epic wedding guest move of all time," Smith infamously rocked an all-white batman costume at Kim Kardashian and Kanye West's Florentine wedding in 2014. He also wore the outfit to his own prom, because, of course he did. Now, he's appropriately back in the suit in the new music video for his latest single, "Batman."
The video, directed by Moises Arias, opens with Smith lying in a field wearing street clothes (so, not a Batman suit), then transitions to him sitting in an office where he gets a call from a reporter who refers to him as "Mr. Wayne" and asks about Batman rumors. He immediately hangs up on her, then gets up to start doing complicated math (could "Jaden, physics genius" be the next big thing?). The answer reached by his long-form equations is, somehow, "BATMAN," and the video cuts to Smith shirtless and doing hard-core superhero-style training. Then, for the next three minutes, the rapper/actor/fashion star is shown riding around L.A. in a white Batman costume in all-white bat car, fighting other superhero-outfitted vigilantes on Hollywood Boulevard. It is everything you could possibly want from a Jaden Smith music video.
According to the website Pigeon and Planes, the release of "Batman" comes in the wake of December's "Fallen," a collaboration with vocalist Kevin Abstract. Hopefully, this means he has more music in store (maybe some K-pop, for real?). But just like the OG Dark Knight, you never what wild stunt Jaden Smith will dream up next.
Watch Smith's "Batman" video below:
Related: Who Is Jaden Smith's New Lady Friend, Celebrity Scion Odessa Adlon?
See What's Trending in W Video: