Are Jaden Smith and Tyler, the Creator Dating or Just Being Exhausting?
Smith did break up with Odessa Adlon, however.
---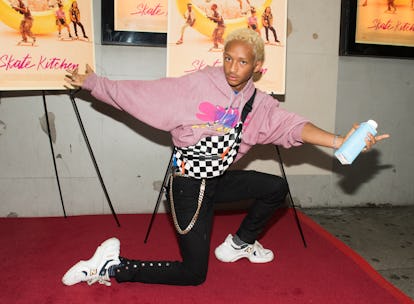 Noam Galai
Fifteen days have passed since Jaden Smith's public declaration of his love for Tyler, the Creator, and the world is still not exactly sure what, if anything, is going on between the two, but at least certain corners of it still seem very, very intrigued.
To recap, in case you are not part of those certain corners, while playing at Tyler's Camp Flog Gnaw Carnival in Los Angeles earlier this month, Smith took a moment out of his set to announce that Tyler was his boyfriend. "And I want to tell you guys something," he told the crowd. "I want to tell you. Tyler doesn't want to say, but Tyler's my mother fking boyfriend, and he's been my mother fking boyfriend my whole fking life. Tyler, the Creator is my fking boyfriend. It's true." Video of the moment showed Tyler in the crowd giggling and seemingly shaking the statement off. Later, in a now deleted tweet, Smith doubled down on the assertion, but Tyler replied, calling him "crazy."
Smith, of course, has built his public profile on saying nonsense in public in such a way where you're not really sure if he believes it or he's just attempting to troll the world. At 16, he entered the public consciousness at large by declaring he could control time and the he wanted "to be the most craziest of all time" in an interview with T magazine. This is also the same guy who, more recently, claimed to have once, temporarily, been a vampire.
In the grand scheme of things, claiming to be dating someone is, frankly, on the lesser end of ridiculous things he's said in public. Though, unlike his assertion of having been a vampire, people seem to be wondering if he's actually serious, and Smith keeps stringing them along.
"I recently said that Tyler, the Creator is my boyfriend and that's true, so just so you know," Smith recently said during a Apple Music Beats 1 Radio in which he was promoting his latest mixtape, The Sunset Tapes: A Cool Tape Story. For some reason, the quote made headlines last week and again today (apparently even celebrity gossip clearance houses have some catching up to do after Thanksgiving break).
It's not hard to see why the episode has become a source of fascination. Tyler, after all, attracted criticism early in his career for peppering his lyrics with homophobia and gay slurs but has since hinted through his lyrics and cryptic social media posts that he has had romantic interludes with men (he's even hinted at being attracted to Timothée Chalamet). Smith, meanwhile, has always publicly dated women ever since his first public relationship, with Kylie Jenner, but his individual sense of fashion and aesthetics has stirred up some ugly name-calling form the less secure corner of the internet. There's complicated dynamics at play. Of course, absent of any evidence that this is anything but a troll job, it's also been derided as queer-bating.
In any event, it does seem to have overshadowed other Jaden Smith relationship news: He's broken up with Odessa Adlon, the Nashville actress and daughter of Better Things and King of the Hill star Pamela Adlon. The pair began dating late last year but haven't been spotted together since the summer.
"I did really f**k up in my relationship with Odessa, and this song is kind of like me being like, 'Yo, I'm sorry,' because I am sorry, and I've already said sorry to her a million times, but this is me saying sorry to her again," Smith said of his new song "Fallen Part II" during that Beat 1 Radio interview. "That's what this song is. It's kind of sad, high-key. I made this in Hawaii and I was sad."
_Related: Jaden Smith on Saving the Planet, a Brand-New Album, and Why Prom Was More Stressful Than the Met Gala