Jake Gyllenhaal Waxes Poetic On Bad Fragrances And Glorious Beards
The actor joined his campaign co-star Liya Kebede to discuss Calvin Klein Eternity and nostalgic fragrances.
---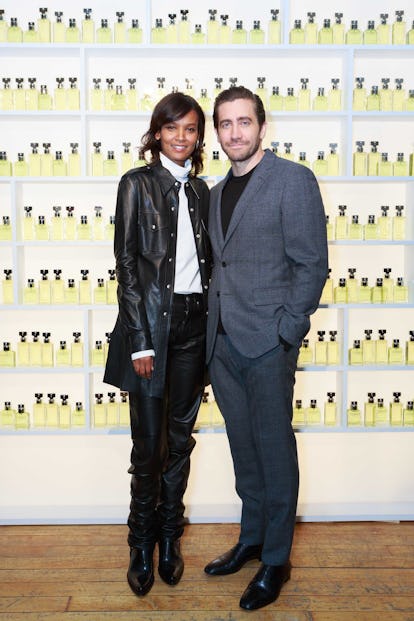 Sam Deitch/BFA.com
For the star of the new campaign for Calvin Klein Eternity, Jake Gyllenhaal's first memories of the fragrance are decidedly unglamorous. "It's so strange, isn't it, how specific scents are?" the 36-year-old Oscar nominee mused on Thursday evening, just before a dinner celebrating the campaign launch. He and his campaign co-star, the Ethiopian supermodel, designer, and maternal health activist Liya Kebede, sat on a couch at Soho's Crosby Street Hotel, surrounded by a contingent of journalists lobbying questions at them. "I remember it amongst dirty gym clothes, and then I remember over-spraying it on my body. Way, way too concentrated," he continued. "I didn't remember what area to put it. Like, I remembered people putting it on their wrists or doing something like spray it and sort of jump through it."
"Really?" Kebede asked incredulously. "I still put it on like that," Gyllenhaal said. "It's like, a full-on front dive through the scent."
In the campaign, which played on a screen nearby, Gyllenhaal and Kebede play the parents of four-year-old actress Leila; they alternate reading her lines of e.e. cummings while she fools around, pretending to snip Gyllenhaal's (admittedly perfect Brooklyn dad) beard with her fingers. ("The first thing she did was come up to me and she started cutting my beard," Gyllenhaal recalled. "'Cut, cut, cut, cut, off, off.'") They make a convincing on-screen couple, and off-screen, they engaged in the easy banter of old friends. "I like this story. I've heard it before," Gyllenhaal said, laughing, as Kebede began to recall the scent of an old crush. "What was his name…?" he teased gently.
And while both actor and model recalled teenage memories of Eternity—which will celebrate its 30th anniversary next year—their earliest scent memories were markedly more intimate. "My mom had a large fragrance collection," Kebede recalled—which included Calvin Klein Obsession and vintage Givenchy scents. "It was really fun to sit and watch her put fragrance on every morning and hope to be sprayed by her whenever she decided to spray me too. I would really fantasize about that time I would be a grownup and have my own little case of perfumes."
"I remember Irish Spring and Pert Plus. Pert Plus was a big one. That smell…" Gyllenhaal said, utterly deadpan and trailing off wistfully. "I'm serious. That's deep."
A couple blocks away, at a converted loft on Mercer Street that had been filled with lush greenery (and, of course, plenty of bottles of Eternity for men and women), the party was already starting to convene. Lines from the e.e. cummings poem "i carry your heart with me(i carry it in"—the poem from the campaign video—were illuminated in a projection and in neon light on opposite walls. Jake Gyllenhaal's sister Maggie held court in one corner, Calvin Klein designer Raf Simons in another, surrounded by a contingent of models including Mica Arganaraz, Julia Nobis, and Helena Christensen. Twin Peaks actor Kyle MacLachlan and his wife, Project Runway executive producer Desiree Gruber, also put in an appearance; Simons, apparently, is a big fan of Twin Peaks, and MacLachlan attended the Calvin Klein Spring 2018 show.
"I'm not a fragrance person," he admitted. "I just sort of like smelling like me." Still, there was one scent he had adopted from his dad when he was young: "English Leather Lime roll-on deodorant," he said. "It smelled pretty nice."
Related: Jake Gyllenhaal Is a Self-Described Purist Who Loves the Simple Things: Family, Friends, a Perfect Grilled Cheese Sandwich, and Sarcasm
Margot Robbie is here to show you what vegemite sounds like, in ASMR: